Online Drop-in Support
Who could this be good for?
Young people who either…
Would like to speak with someone without setting up an appointment
Are waiting for one of our other services
Have something coming up they'd like to talk about
What is it?
Each week on a Wednesday afternoon (4pm-6pm) you can access our online drop-in service. Here you can speak one to one with one of our practitioners for a short session (usually lasting around 30mins). It's based in our webchat platform so the conversation will be text-based and you can access this from any device.
It's open any young person, whether you've already referred yourself to one of our services or accessing a group, or whether you'd like to talk to someone without signing up for ongoing support.
What can I talk about?
You can choose what to talk about in these sessions, whether that might be a specific problem that's on your mind, something in the future that's worrying you or that you're having a difficult time right now; you could even talk about what 42nd Street can offer you if you would like to.
How do I access this?
To access our drop in, head over to our webchat platform.
From 2pm each Wednesday they'll be a purple box that says "drop-in" – just click that and fill in our form and you'll get a message as soon as a practitioner is free between 4pm-6pm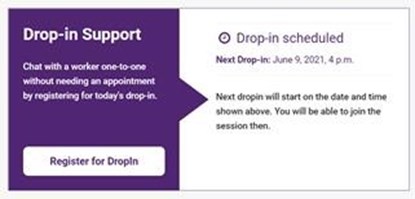 Once you're signed up you can speak with our welcome team too, in case there's any difficulties accessing the drop-in