23 June 2020
Words To Grow
Author: Admin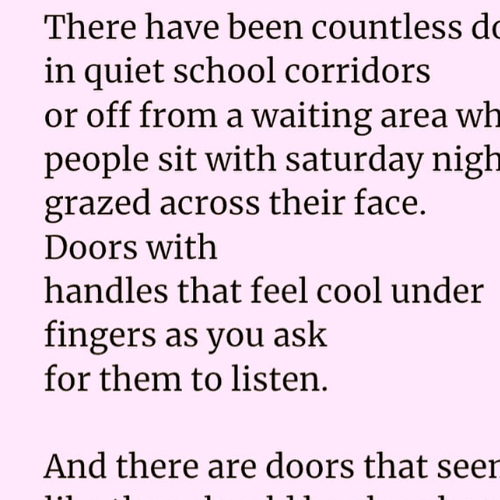 Author: S. Westacott

A few years ago I found myself nervously entering a building tucked away between white walls on Great Ancoats Street, the inside filled with bunting and wardrobe doors and colour. So much has changed since then - from the stripes of colour that now mark 42nd Street as you wander down the road, to the way our society is currently adapting to a new way of life. But for me personally, from that day onwards, 42nd Street provided me with the support and outlets to be happier, more stable and crucially heard and seen than I could have hoped for. Because 42nd Street has been such an important place to me, it's even more exciting to be able to introduce myself on this blog as 42nd Street and The Horsfall's current Artist in Residence, working on 'Words To Grow' - a residency using poetry to explore self care, spaces and the impact of COVID-19. 

Poetry, for me, is something that allows me to take feelings that are overwhelming and messy and incoherent and make them into something tangible and easier to cope with - it's not something that has to adhere to set rules or be up to a certain standard or only talk about certain topics. It's something you can be free to mess around with and there's no hidden secret to it. It allows me to reflect on my own thoughts and feelings and it allows me to figure out what's important to me, what's on my mind and what I keep coming back to in life. It's something you can spend five minutes or five hours on and something you can make the most of wherever you are - whether it's on the NotesApp of your phone on your commute, in a journal tucked up at home, on a scrap of spare paper during a hectic day or committed to memory and spoken to an audience. It's something you can take and make your own. 

I've had to adjust plans somewhat (like everyone!) but you'll be able to find the work I'm producing over on Instagram for the time being at @wordstogrowresidency  - I'll be posting poetry as well as interactive content (prompts and exercises). I'm also looking forward to working with the different people that mix together to make 42nd Street such a wonderful place to be, to create work that reflects the experiences of young people and those supporting them during COVID-19. If you decide to follow the work I'd love to share any responses you might have - whether that be a poem, a quick doodle or anything else that comes to mind. Hopefully there'll soon be a time when you'll be able to explore the work created during this residency at The Horsfall Gallery - keep an eye out on Instagram as the project develops!