15 September 2023
Celebrating Rod
Author: Sarah Jones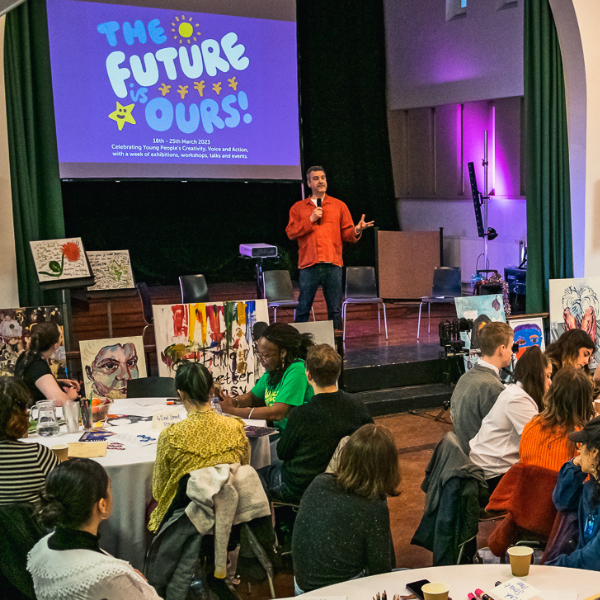 We are delighted that Rod Kippen our Creative and Group Lead has been nominated in the Manchester People's Culture Awards, supported by Manchester Evening News.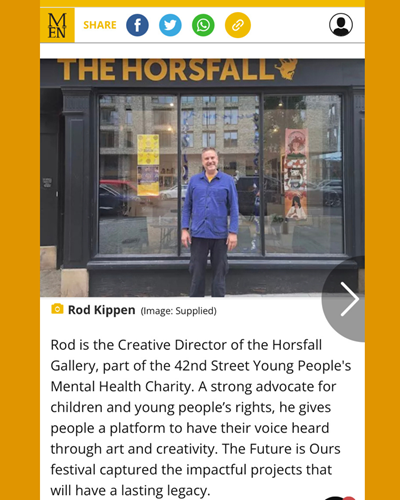 "Rod is the Creative Director of the Horsfall Gallery, part of the 42nd Street Young People's Mental Health Charity. A strong advocate for children's and young people's rights, he gives people a platform to have their voices heard through art and creativity. The Future is Ours festival captured the impactful projects that will have a lasting legacy." - Rod's Nominator
There are some wonderful nominees, including some we collaborate closely with like Dympna who works for the National Trust and at the Castlefield Viaduct and you can read more about them here and nominate up to the 24th of September at midnight.

Whether Rod wins or not we have thoroughly enjoyed the space it has provided to highlight and recognise the amazing support and opportunities that he brings for so many young people throughout Manchester and the impact that has on their futures.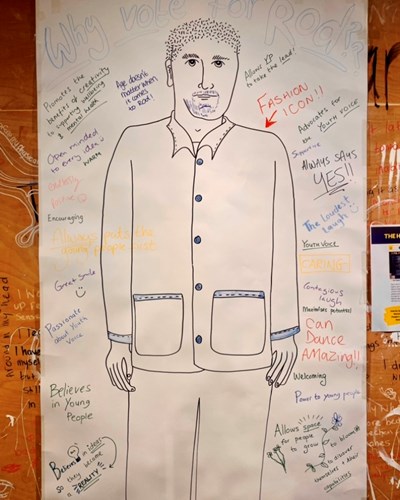 Here's a round-up from our team on what they appreciate about working alongside Rod and what he brings to 42nd Street.

"He's really passionate about providing an incredible experience for the young people here at 42nd Street. His...I guess passion for empowering young people and providing a creative life, a creative experience is paramount to the experience I think the young people receive here at 42nd Street and I think the work " - Al
" I love working with Rod because of his amazing unique laugh. I think his laugh is infectious and that's one of the best things about him. He just makes a room feel warm with his laugh. You can hear it now, and when you hear it down the corridor your like...(sigh of relief / relax /exhale), but also because he's not only really passionate about the work that he does but about like every individual he works with. He sees something in them and he really encourages peoples when they don't feel it...even with myself like he saw something in me that I didn't see and now I do see it like three years down the line and I do see it like three years down the line but he really like can spot talent and know what people need and mostly that's just encouragement and he encourages people in the most beautiful way...and yeah his laugh!" - G

" Rod is amazing! He puts his heart and soul into his work here at 42nd Street looking after the emotional wellbeing and mental health of young people " - Leonie
"He's so passionate about young people and he sees their like skills and creativity and helps them with their mental health." - Lauren
"His enthusiasm is contagious" - Emma
" Rod has created the most incredibly welcoming and just beautifully creative space for young people and he puts young people at the forefront of every thought. If they want to try something he's right behind them supporting them and it's just amazing to see The Horsfall become this beautiful space thanks in massive part to Rod!" - Rebecca
"Rod is the most kind, caring, gentle man and he always says yes to young people. He'll always be up for trying something and I think for young people that's really freeing and liberating to have an adult say yeah your idea is great let's go with it!" - Katie