10 May 2023
Chatting with Kenzye one of our Peer Research Consultants.
Author: Sarah Jones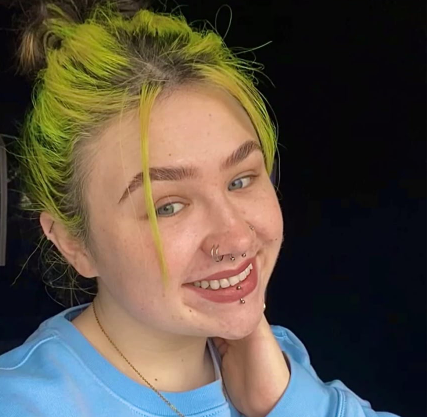 Kenzye is one of our peer research consultants and will be working on our new Mental Health Transformation project looking at how to improve services for young adults across Greater Manchester. We sat down with Kenzye to chat about the project and how she got involved.

A little bit about Kenzye?
I am 22 years old and live in Manchester. I have struggled with my mental health since I was 5 years old, which hit a high point when I was 14. This resulted in hospitalisation and missing a year of school. But, a few diagnoses later and learning how to understand myself and my needs better, I managed to get into university doing Psychology with counselling and psychotherapy which I graduated from in July.
Mental health has always meant a great deal to me and my own experiences have given me the biggest passion to help others and make a positive influence on the systems for mental health support.

What motivated you to get involved in this project?
My passion for helping others and making a difference. 42nd Street also seemed like such a good fit for me as I am super creative, bright and colourful. I have been told a few times by my mental health professionals in children's services that I would love 42nd Street…and they were 100% right!

Why do you think peer research is important and what are the benefits?
In my opinion, peer research offers more tangible data as it is designed, produced and analysed by individuals that have first-hand experience with what is being researched. I also think it reduces a lot f anxiety as you know that the individuals collecting the data (us peer researchers) to some extent will have experienced similar things, removing judgement. We can relate to the feelings centred around trying to access help and exchanges within mental health services, so we know it isn't always easy to try and use our voices but, now is our time to shine!

Is there anything in particular that you have enjoyed or learnt so far?
I have really enjoyed getting settled in and getting to know everyone at 42nd Street. I have also really enjoyed going to different meetings to learn more about what is going on within mental health services/systems and planning our project.

What stage are you at with the project?
We are getting ready to invite young adults in to begin the data collection process through interviews and focus groups which I am really excited about as we have some fun activities planned.


What would you share or say to young people about getting involved in the project?
Please don't be nervous about getting involved, everything you have to say is so valued and I hope that people feel comfortable enough to come and join in as we have some really fun activities planned within the focus groups and we want to hear what young adults have to say because we want to improve services for them, so in my eyes, their voice is the most important.
To find out more about the project and how to get involved visit here.