07 September 2023
Hidden Narratives - An exhibition by South Asian Artists
Author: Sarah Jones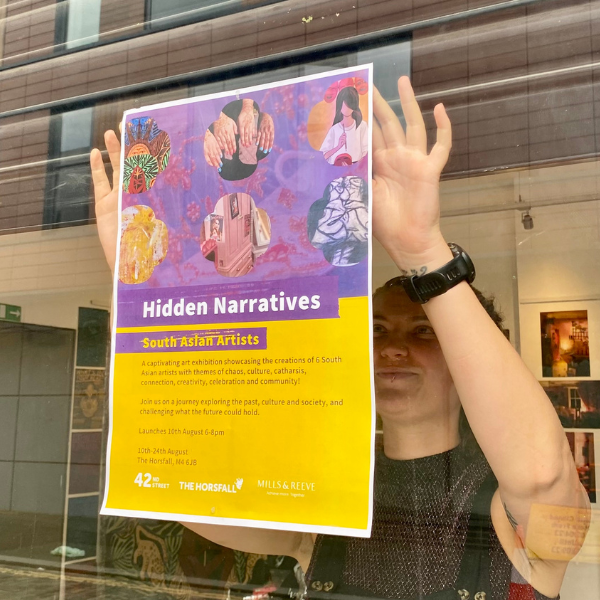 In August we exhibited Hidden Narratives at The Horsfall gallery, showcasing the work created by 6 South Asian artists-in-residence. The Hidden Narratives Artists-in-Residence programme was sponsored by national law firm, Mills & Reeve LLP who joined us for the launch. It was great to have them visit and wonderful to observe their investment in the project and care about the impact our work has.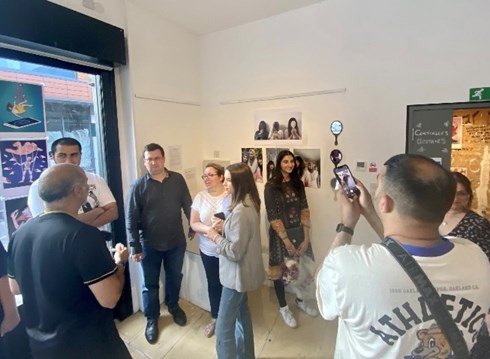 "Mills & Reeves were immensely proud to support such an important project and learn more about the support 42nd Street offers young people.
Ben Hardiman, Justine Rae and Freddie Brock, of Mills &Reeve's charity committee were delighted to attend the exhibition and hear how the Artists-in-Residence programme supported young South Asian artists in Greater Manchester. It was particularly pleasing to hear how the programme offered many of the artists their first opportunity to both connect with other young South Asian artists and to exhibit their work. They found the artwork both moving and inspiring and are looking forward to seeing what's next for these talented young people." - Mills & Reeves.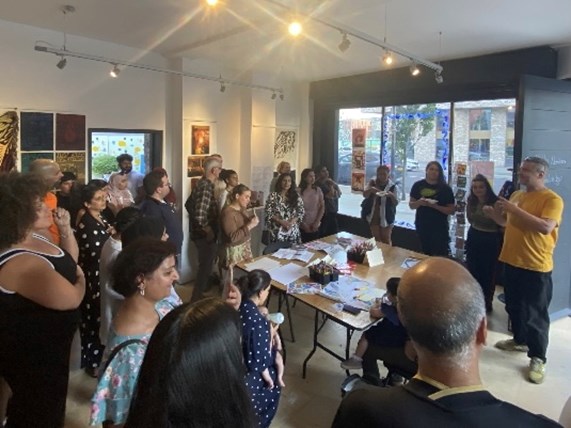 The exhibition coincided with South Asian Heritage Month and we wanted to create a platform for people with South Asian heritage voices to be heard and art to be seen - sharing what each individual wanted and also raising awareness of the impacts of mixed culture, acculturation, and living in a community where sometimes societal norms or beliefs contradict with held cultural values and expectations, how this impacts the feelings and experiences of being part of a 'community' and can cause conflicts with one's own identity impacting an individual's life journey, wellbeing and mental health.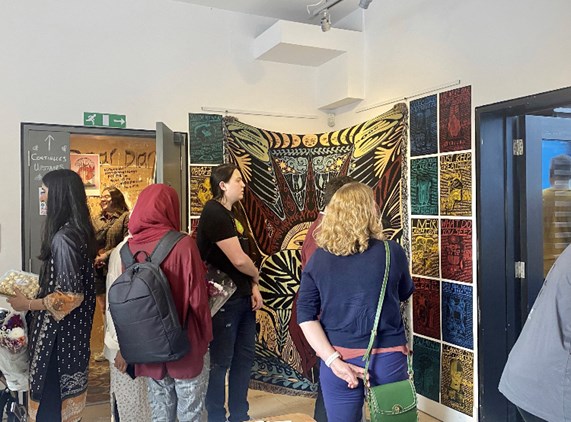 When going through the transition of puberty young people start to explore their own identities more and more, while they navigate this new version of themselves, as well as the new thoughts and feelings that come with development into young adults.

Being mixed heritage, mixed culture, facing discrimination and colourism can all add to the challenges young people already face.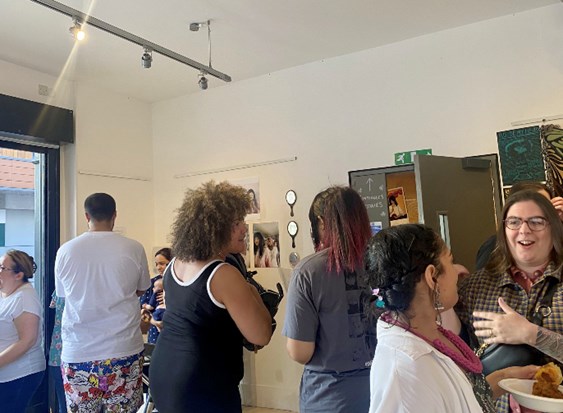 The Horsfall creative space is for young people to engage with in a way that best supports their wellbeing and allows them to say what they want to say. While some of the artists may have focused on this, in particular, each young artist has used this opportunity to express, process and highlight matters which are meaningful to them in order to process, reflect, express or call for change - Carry on reading to find out what each South Asian artist-in-residence had to share and how they did this through their own unique creations.
In-between- A teenage experience in miniature form -Yasmeen Wilson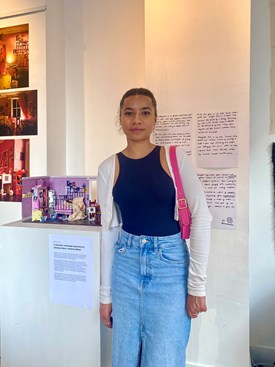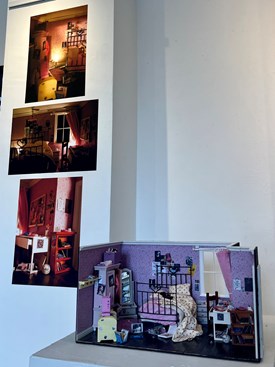 My work is a 1/12 scale miniature model capturing the essence of the teenage girl experience. I work on challenging the societal and media-driven demonization of femininity through celebrating the teenage bedroom as a sanctuary for self-discovery and creative expression, free from judgment.
Within this scene, there are hidden messages referencing my previous work, as I incorporate posters, zines and Lino prints that reference my fictional "Four Walls" feminist horror movie stunt. Elements around the room reference the narrative of a young girl working creatively to tackle the demonisation of femininity.
I was initially inspired by the history of doll's-houses, an art that is belittled for its association to young girls. The choice to use the art of miniaturisation adds significance to the details. The scale invites the audience to immerse themselves in this intimate world.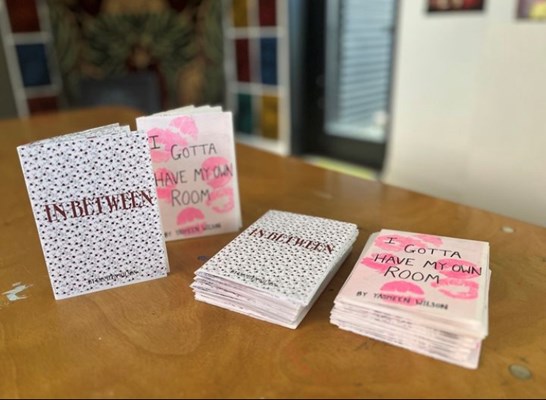 I have dedicated time to this small-scale space, utilising materials such as wood, paper, 3D printing and electronics to creatively express the importance of the teenage bedroom. The piece reflects on the sanctity of self-expression within the teenage bedroom, prompting the viewer to reflect on their own teenage bedroom and how it challenged or conformed to societal norms.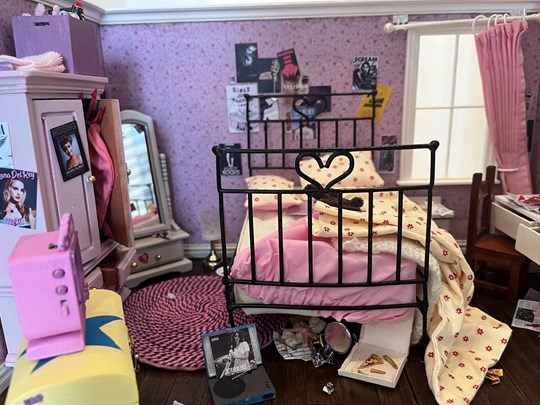 The Creative Body and "I'm a Sri Lankan artists" -Chloe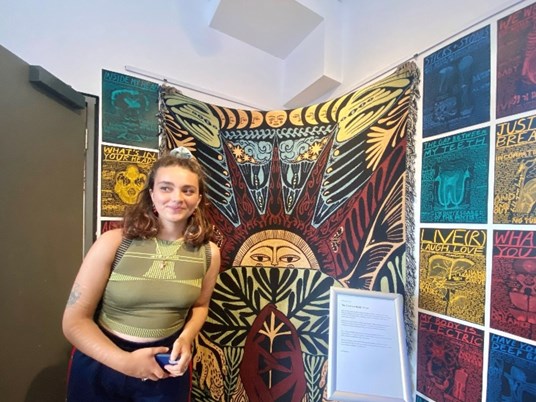 Chloe Watts is a 24 year old visual communicator based in Manchester. Her work features bright and bold imagery, often paired with contrasting emotionally charged context. Her illustrations are an expressive display of her feelings and it acts as a rather cathartic release.
Chloe's work come from a place of many emotions and deeply-rooted feelings that Chloe allows herself to express through art. Creativity, as an expressive act resonates with many people and Chloe, uses this to underpin her practice.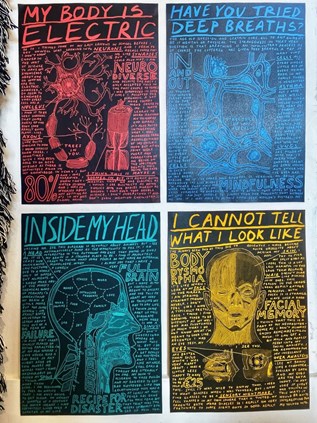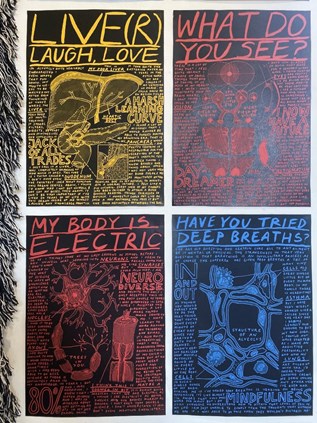 'I'm a Sri Lankan Artist'- This woven blanket was created from Chloe's understanding of her familial heritage. This illustrative style was heavily influenced by Sri Lankan art and Chloe's take on Sri Lanka.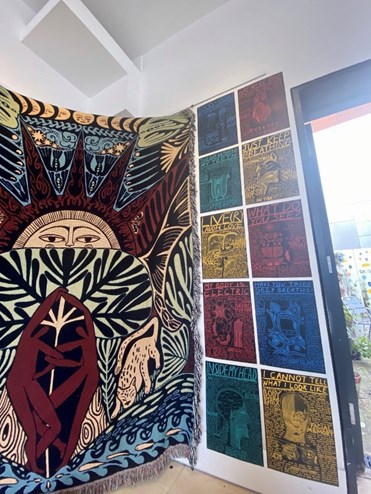 The Creative Body- A series of 24 illustrations responding to Chloe's family's shunning of the arts. A trauma led artistic take on medicine and the body, created using a medical textbook as a reference.
 
@chloeyasart
Beautifully Chaotic - Mahdiyyah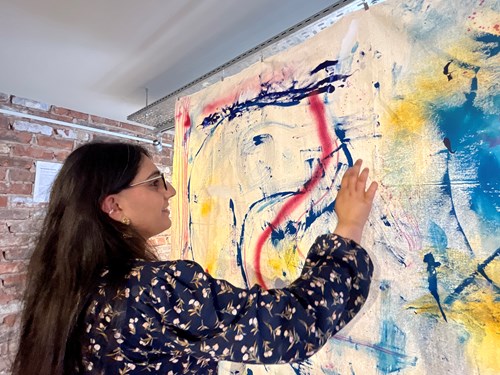 My work is quite unique in the sense that it always starts off quite small and private in my sketchbook and slowly builds up to become something bigger with lots of different layers and nuances.

Within this process, I am interested in exploring a variety of techniques and processes including illustration, collage, embroidery, painting, print and textiles.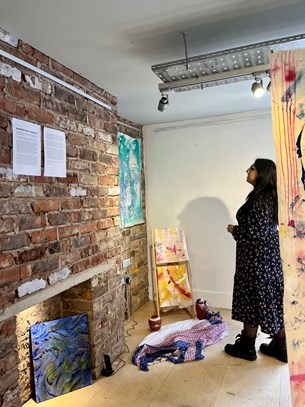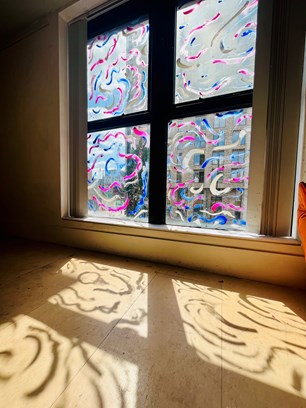 I love to create incredibly tactile pieces that explore my experience of being a South Asian woman. How frustrating and suffocating it can be to be part of this culture, one that is full of rich history and diversity but has been shoved into a corner by myself but also by the community that I am surrounded by. Everything is complicated and conflicted. Which makes it difficult to navigate my own identity and make a sense of what is what and my artwork reflects that. I grew frustrated with how society lacked the basic cultural sensitivity and diversity that should be expected in the 21st century. It's interesting to note how we cannot fully acknowledge the trauma and sacrifice that South Asian communities have made to live in the UK. We do not acknowledge just how some of us are having to manage this trauma and the impact it has on our daily lives without any support.

I found it suffocating when I realised the lack of support for POC in all mental health services. How people dismissed my concerns and how they didn't understand how my family dynamics work. How traditional methods of managing anxiety and low mood was just not acceptable in my household. For example, I couldn't do simple breathing techniques or keep a journal at home because I didn't have privacy. How I couldn't just simply walk away from my family and how I had my duties and responsibilities to my family. How my ancestors' choices still impact me to this day. How it is so difficult to establish boundaries or mutual respect in South Asian families? I poured all these frustrations and resentment into this piece.


It's exhausting. The demands, the pressures, the expectations that I have to meet not just for myself but also for my family and my community. It's a burden that weighs heavily on my shoulders that others never quite comprehend. How little support I had from my family and how I couldn't really talk to them about my mental health struggles. How jaded I became and the impact that had on others. How I felt like I couldn't breathe and my throat and mouth were sewn up.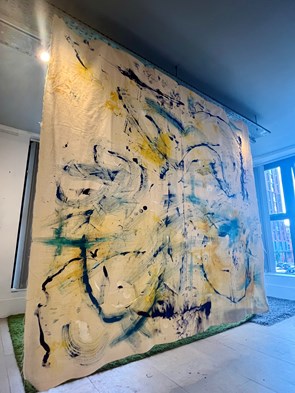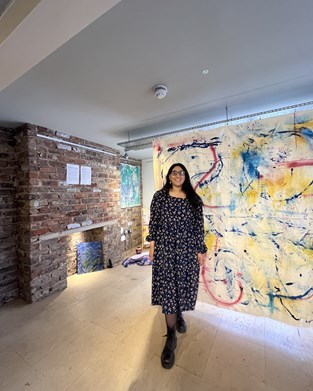 So, while I painted this piece I found solace in the process as it allowed me to reinterpret my lived experience and emotions while remaining anonymous. It gives me the space and time to unravel, process and reflect. It gave me the chance to make a mess and have fun. It allowed my mind and body to relax while my soul found a moment of peace within the paint. The beauty of this work is that it has been on my terms and I have been able to work at my own pace. There is no set rush to meet the finishing line.
 
The process of making this work is really unique as it will be continued throughout the exhibition. I first experimented on small pieces with paint and woodblock and poetry to reflect my inner thoughts. Then for the bigger piece, I started by dyeing fabric with turmeric which gave a beautiful yellow stain. Then I threw and drew with acrylic paint and allowed the materials to work in their own way. Using the wood blocks to add the white paint in certain areas. This is an extension of me. With this piece, it was very much layered upon like all my other pieces. It allowed me to realise the emotions and feelings I have been feeling since I was a child. I put Taylor Swift and Ruelle on full blast and just danced while I threw pain(t) at the canvas. It gave little Mahdiyyah the 'sukoon' that had never been given to me. I genuinely loved how much of a mess I made. It gave me pure joy that I rarely get to experience. I loved how the words and colours spoke to me while creating this piece in a way that other commissions had not done so.
 
This is deeply personal, open and raw for me. The words on this paper are just too small to express the depths of my emotions.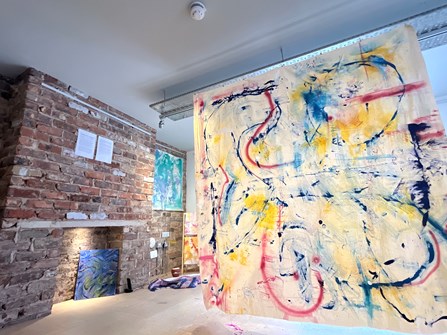 @mahdiyyah_ahmed


Shafia Fiaz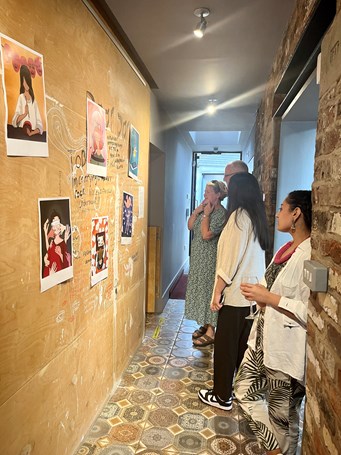 My name is Shafia, as an artist in residence for 42nd Street, I find immense joy and fulfilment in using my artistic skills to explore and address various topics of mental health and its effects. I have the skill of modifying my art style to suit each project's unique requirements. For this project, I decided to delve into a very realistic art style, a choice I have previously explored during a project at Manchester Museum.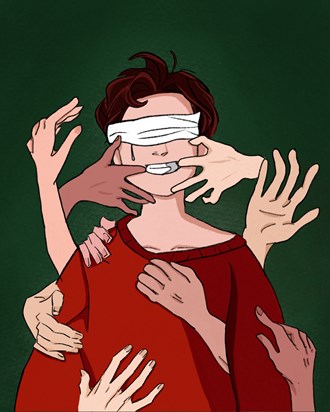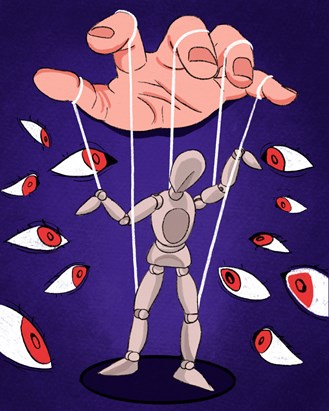 In this series of six illustrations, I have chosen to focus on the profound impact of mental health issues on both young individuals and adults. I aim to highlight the struggles faced by many, for example, the sense of being controlled by external forces, such as societal norms, authoritative figures like bosses and parents, and the constraining rules imposed by society. The themes also depicted the effects of social media, the burdens of academic or professional responsibilities, and the heart-breaking dilemmas of prioritising work over one's creative passions, often in the absence of parental support or under the weight of societal pressures.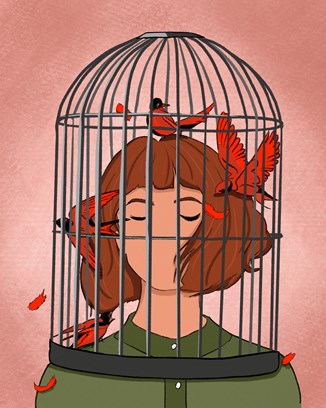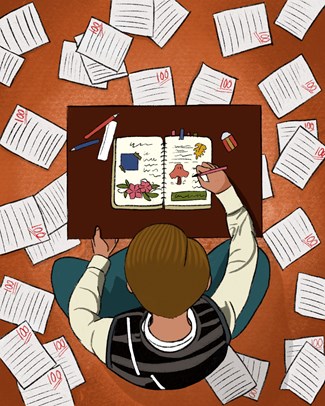 In the creative process, I decided not to incorporate facial expressions in most of the illustrations. Instead, I wanted to give a sense of emotional detachment and disconnection, symbolizing the feeling of being lost and devoid of emotions that many individuals experience during their mental health struggles. However, in one design, I felt that expressions were crucial to conveying the intended message.
In an effort to encourage a personal and contemplative viewing experience, I decided not to add any accompanying text or descriptions to the illustrations. By doing so, I invite the audience to interpret the artwork based on their unique perspectives and individual experiences with mental health. Each person's journey with mental health is deeply personal, and I believe my work will resonate with many, fostering a sense of shared understanding and connection.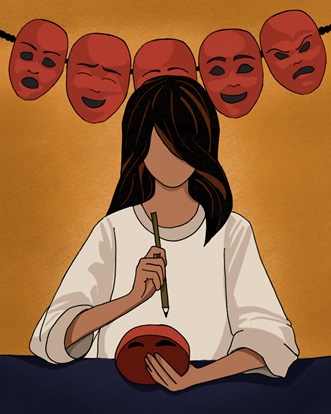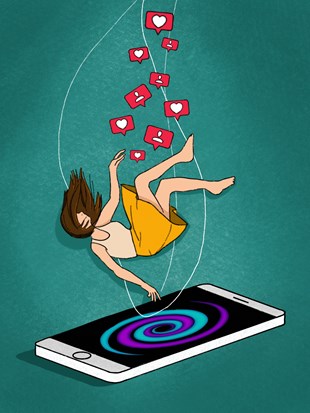 Through this artistic exploration, I hope to shed light on the importance of mental health awareness, empathy, and compassion in our society. My aim is to inspire conversations and reflections that can lead to greater understanding and support for those navigating the complexities of mental well-being. As an artist, I see my responsibility to start communication, expressing the unspoken emotions and experiences of those who may find comfort and solidarity in my work.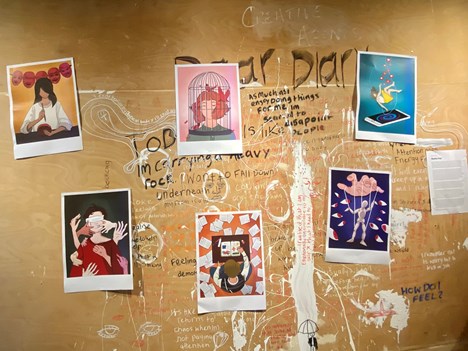 Instagram and Twitter @Shafiaa_z

Hal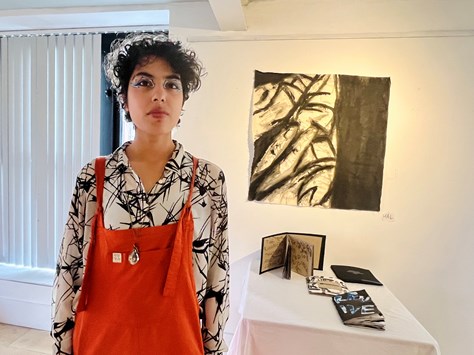 Hal is a painter, printmaker, zine artist whose work explores mental health, identity, politics and the human form. Their work is expressive and bold, utilising long continuous mark-making to depict stark and abstracted forms.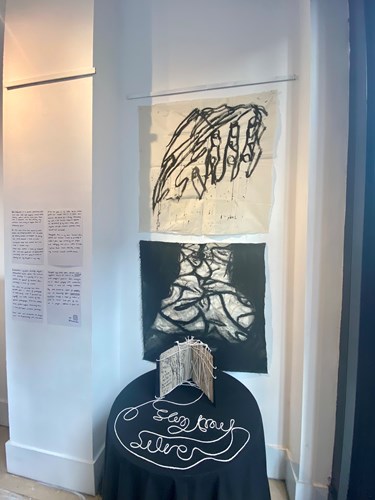 For this work, I've been exploring mental health, the strength of emotion and the process of releasing emotions and thoughts. As part of this, I created a series of three monoprint zines that combined text and image in energetic ways.
 
These zines contain a series of Monoprints that have been produced at speed without considering what I'm going to write or filtering out my thoughts in any way. I have then gone on to order these monoprints and compile them in a form that mimics the format of a diary. Presenting my work in this matter means it reflects the content of my work - strong often negative and often secretive emotions being bound and encased. Alongside this in my zine 'Revive' I've edited and revised a series of paintings I made a year ago, blacking out pages and collaging old art in order to create a piece that more closely mirrors my current mental health state.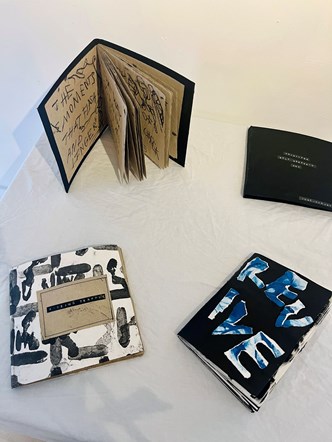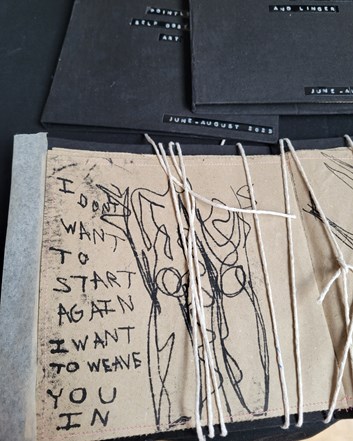 Furthermore, my fabric paintings depict abstract human forms. The continuous line painting is a painting I completed at speed of someone else converging a sense of unrest.
The other two paintings have been painted from a series of photographs I took during which I painted on to myself and took a series of self-portrait photographs. I then edited these photos before showcasing them in their final forms as these paintings. Their work was concerned with playfulness and experimenting with techniques.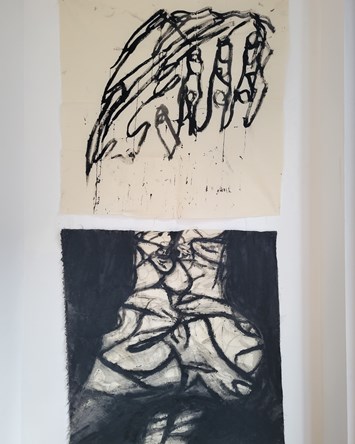 Despite my work often serious and often negative there is, I view it as mematical, neutral and playful in practice. Art-making for me, is about playing with materials, making a mess and making mistakes. My work serves as a form of catharsis, with me experimenting, often hyperbolised emotion through a range of media in order to leave that part of me on a page, detach it for me.


Unseen - Iqra (photographer)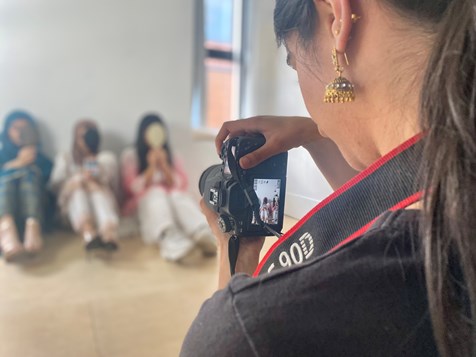 I am Iqra Saied, a photography student based in Manchester. My work primarily focuses on the theme of identity and explores the issues in today's society. As a Pakistani artist, South Asian culture plays an important role in my work. Representation is what I strive to convey in my photography.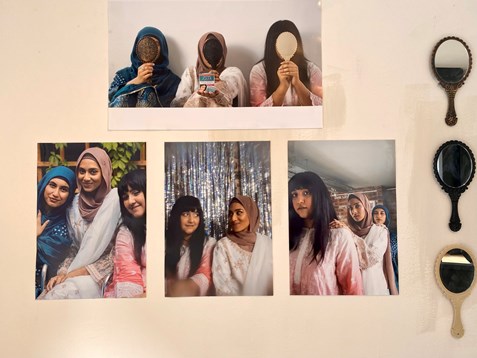 Unseen addresses the issue of Colourism and the effect it has caused on South Asian women of various skin tones. Colourism is prejudice or discrimination against individuals with a dark skin tone, typically among people of the same ethnic or racial group.

Unfortunately, in South Asian culture, people with darker skin tones are sometimes disrespected and considered "unattractive." Our community often perceive them negatively and compares their appearances to lighter-skinned people, thus causing insecurity for many South Asians, and affecting women the most. People with dark skin have little to no representation in the media, relating to the title Unseen.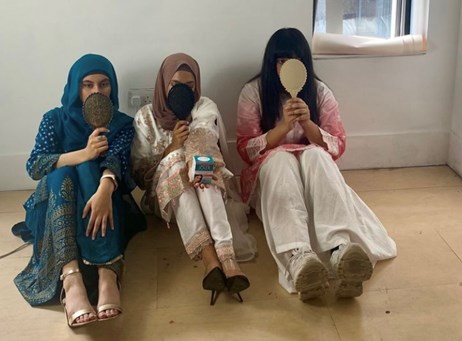 According to statistics, 60% of the population in India use skin-lightening treatment. Skin bleaching is the process of reducing melanin concentration in the skin. Continuing to be a thriving business, it comes in the form of soaps, creams, pills, and injectables. The Jolen brightening cream captured in the first image is one of many products people use to lighten their skin. In South Asian families, young girls are encouraged to use these products to lighten their skin and to become "pretty."
In creating this project, I hope to raise awareness about these issues as I believe they are normalised, especially in our community. The primary aim is for the audience to reflect on Colourism and how it affects South Asian women. I was delighted to work with the models - Tasnia, Hafsa and Aleena. They taught me a lot about Colourism and shared their personal experiences. It has enabled me to learn about the effects and history of Colourism. I want the audience to acknowledge that they are not alone. I hope people with dark skin find acceptance and beauty in their skin tone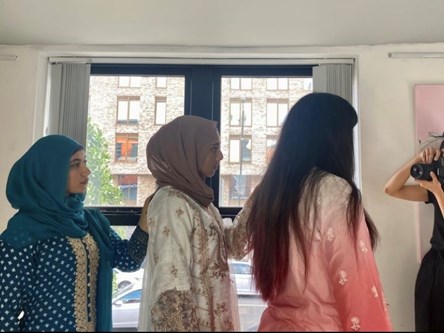 @picsbyiq
Unseen - Tasnia (Model)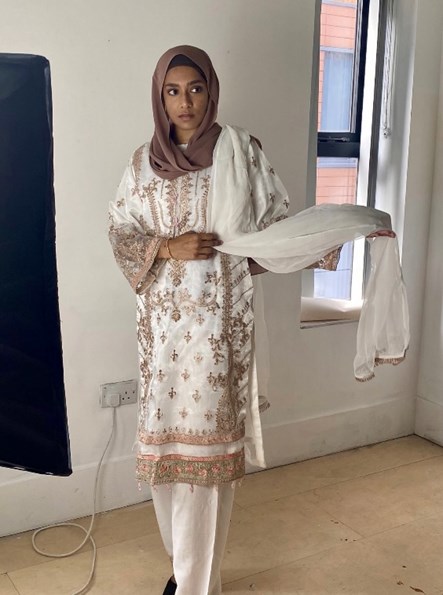 What is it like to be brown and South Asian you ask?
It's being told from a young age that you are not beautiful or pretty because you are on the darker side of brown. It's being told by your mother to turn around away from the sun while you wait for the bus so the sun's rays don't make you darker. It's subconsciously hiding under the bus shelter not because it's too bright and you can't stand it but because your melanin skin might get too dark and no amount go scrubbing will take that away. It's being told that the dark pigment before your nails are too dark.
It's growing up constantly being compared to South Asian girls who are lighter than you and being told 'try this cream or this one.. Or actually try this one' anything to make your skin clear and fairer. Being told that it's the lighter skinned pretty girls who will get married not you. 'nobody will marry you with all those scars.'
I was told to write a bit about how I have come to accept my skin tone. The reality is I don't think I have. But I think I'm getting there. And hopefully I won't come home from work and sigh in the mirror when I see that I look a bit darker than I would prefer. And hopefully south Asian children of the generation to come won't know what fair and lovely is and the South Asian community can finally leave colourism to the past and not the future.
Unseen - Hafsa (Model)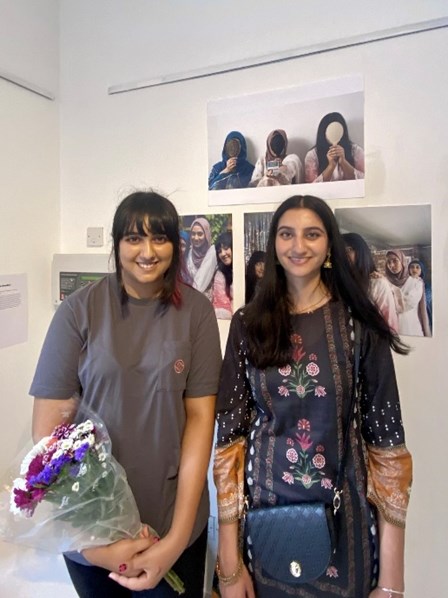 Colourism in South Asian communities is a direct consequence of misogyny, classism, capitalism and colonisation.
Colourism disproportionately affects women as we are always held to impossible standards of beauty designed to debilitate us. Colourism is a result of classism as upper classes/castes looked down on labourers who had darker skin from working outside. Colonisation contributed to this by cementing these ideas which were previously loosely formed. These concepts were then commodified by the British and further used to exploit South Asians through selling us skin bleaching products to capitalise on the insecurity they had created in our community. This was further consolidated with South Asian immigrants facing racism at the hands of Europeans.

Fighting against colourism is also fighting against these oppressive structures.