03 August 2023
Kieran Fest Quiz Night is back!
Author: Sarah Jones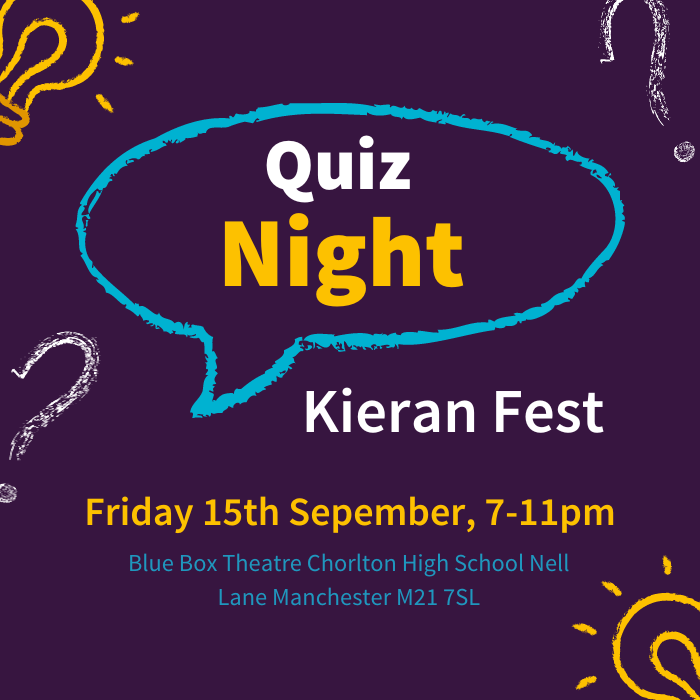 Kieran Fest is an annual festival held in memory of Kieran Crump-Raiswell and often takes place in Chorlton and includes a variety of fundraising events such as a quiz night and football match which all raise funds to support us in supporting more young people with their emotional wellbeing and mental health as well as day trips for the young people.
Kieran sadly lost his life as a teenager in an unprovoked knife attack, in January 2013. Kieran's family, with the help of friends and the community, have set up Kieran Fest to commemorate Kieran's life in a positive way while supporting a cause close to their hearts. Since its inception, Kieran Fest has been successful in raising significant funds for us at 42nd Street, contributing to our crucial work with young people in Greater Manchester.
Get your friends and family together and support Kieran's family in fundraising for Kieran Fest Quiz Night 2023, on Friday 15 September 2023 at 7.00pm at Blue Box Theatre Chorlton High School.
You can book your tickets in advance here up until the 9th of September and one ticket us for
We hope you have a great time and know Kieran Fest can't wait for you to join them!
When: 7-11pm. Entry is at 7pm for a 7.30pm quiz start.
Where:  Blue Box Theatre  Chorlton High School Nell Lane Manchester M21 7SL