31 October 2023
Saluting Our Sisters - Meet Dominque
Author: Sarah Jones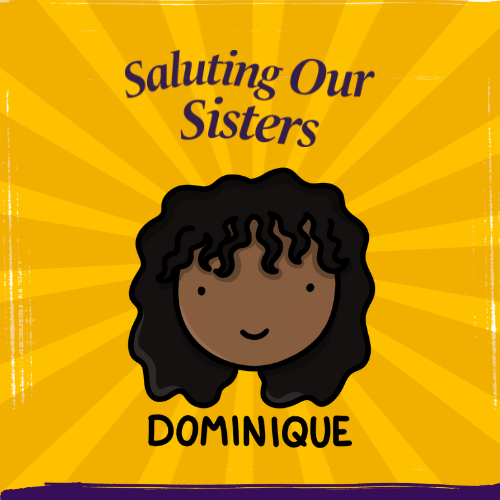 Find out what Dominique enjoys about working at 42nd Street, why she does this kind of work and who inspires her in our Saluting Our Sisters interview.
Why do you work at 42nd Street?
I had actually planned to do some voluntary work at African and Caribbean Mental Health Services in between my travels as I wanted to give something back to my community- I requested a reference from Karina who told me about job opportunities at 42nd Street. I came to visit and loved the energy in the office. I had heard about 42nd Street and their work for many years and I was intrigued. I decided to go for a job as I had to put my travels on hold anyway due to illness in my family. I had been working in the UAE for years prior to this role and wanted to continue to support young people. My intuition told me that I would be happy working here and I certainly have been. It's a wonderful organisation that puts young people first, the ethos here gives young people a voice as well as support and I love what it stands for.
As a Black Woman why do you feel it's important to do this type of work?
When I was younger I had no idea that I could seek this type of support. I think I would've really benefited from it- even more so if I was able to speak to someone that looked like me and could relate to some of the challenges that I was facing. I think it's important for there to be some representation of all aspects of the population. Adolescence can be a challenging time in life. I want to support BAME young people with their struggles particularly those that might be linked to identity and inequality that they may have faced.
This year's BHM theme is 'Honouring the achievements of Black Women': What is an achievement of your own that you'd like to share?
My most recent achievement was qualifying as a Cognitive Behavioural Psychotherapist- It was a gruelling year. It took grit, resilience, determination and sacrifice to complete this notoriously difficult course. I am proud that I managed to do that. I am proud to represent for BAME women in the field of CBT.
Can you name a Black Woman in your family or community that you are proud of and describe their unique qualities?
I am proud of my cousin Nicole- she is a beautiful soul that has the most positive energy- she is a mother an artist a poet, a director and has travelled far and wide sharing her art and skills with young people across the globe.  She has very recently had a difficult time losing her husband and has been so strong and resilient. She is a Queen and I am proud of all she stands for.