02 October 2023
Take Part In Our Black History Month Events
Author: Sarah Jones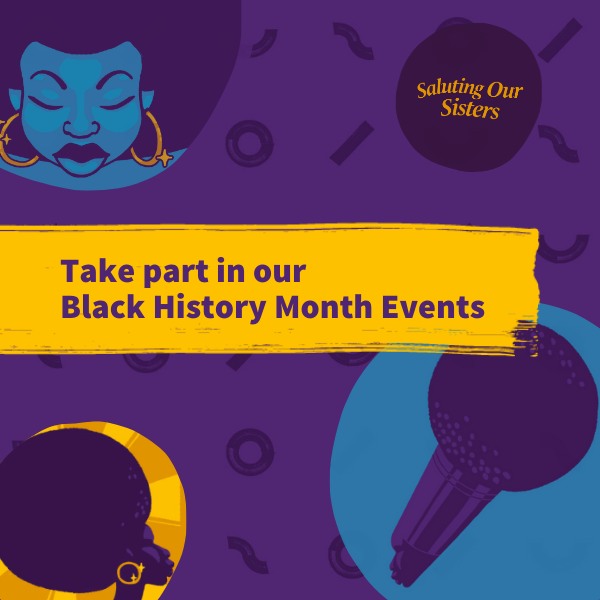 Black History Month is a month-long observance held in October to celebrate and recognise the contributions, achievements, and history of Black communities in the United Kingdom. It provides a platform to showcase the cultural, historical, and artistic accomplishments of Black individuals and communities while also raising awareness about the ongoing struggle for racial equality and social justice. Throughout the month, various events, exhibitions, educational programs, and discussions are organised to foster understanding, celebrate diversity, and promote inclusivity.
This year's theme for Black History Month is 'Saluting Our Sisters' and we will be celebrating with an online quiz across our social media channels highlighting famous Black Women who have contributing great things to this world, interviews with our team, a community exhibition, an open-mic event and a special event in partnership with Melanin Markets.


Saluting Our Sisters Community Exhibition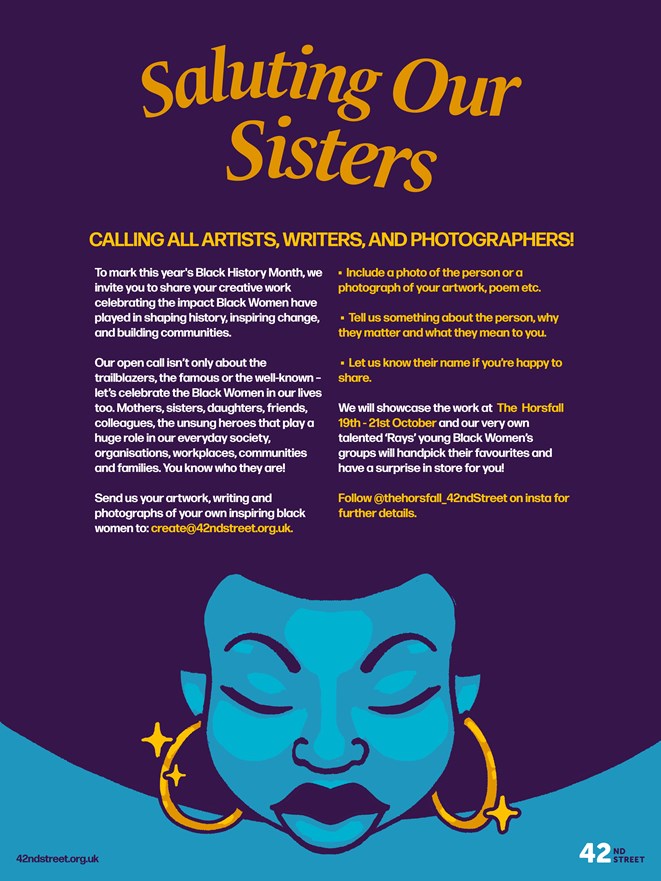 To mark this year's Black History Month, we invite you to share your creative work celebrating the impact Black Women have played in shaping history, inspiring change, and building communities. ⁠
⁠
Our open call isn't only about the trailblazers, the famous or the well-known – let's celebrate the Black Women in our lives too... mothers, sisters, daughters, friends, colleagues, the unsung heroes that play a huge role in our every day, society, organisations, workplaces, communities and families. ⁠
⁠
You know who they are!!!! ⁠
⁠
Send us your artwork, writing and photographs of your own inspiring black women to create@42ndstreet.org.uk or email to drop your work off at The Horsfall.

- Include a photo of the person or a photograph of your artwork, poem etc. (or drop off) by the 15th October
- Tell us something about the person, why they matter and what they mean to you. ⁠
- Let us know their name if you're happy to share. ⁠
⁠
We will showcase the work at The Horsfall from 19th - 21st October and our very own talented 'Rays' young Black Women's groups will handpick their favourite submissions and have a surprise in store for you!⁠
Saluting Our Sister Open-Mic Call-Out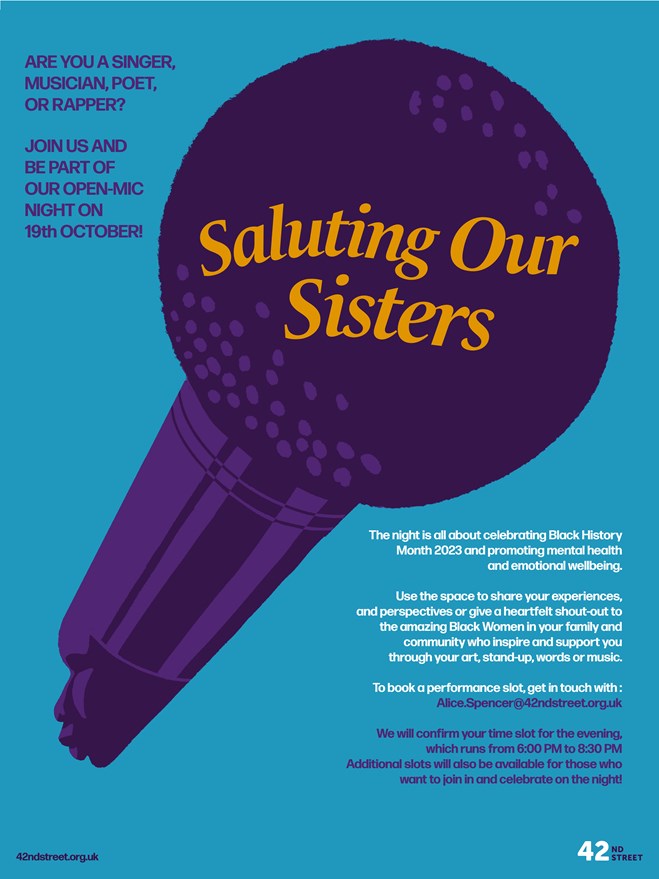 On the 19th October to celebrate Black History Month we will be hosting a Open-Mic Night
If you're  a singer, musician, rapper or poet and would like like to take part get in touch with Alice.Spencer@42ndstreet.org.uk to book a performance slot.⁠
⁠
We will confirm your time between 6.30 - 8 pm and spots will also be available for people who want to join in on the night.⁠
⁠
Taking part is not your thing, but would love to come along?

Then join us on 19th October from 6 pm to see the wonderful performances and the inspiring Black Women from our communities or on Saturday 21st October 12 - 5 pm, for from Melanin Markets.

We can't wait to see you there!