12 May 2020
​Kindness
Author: Admin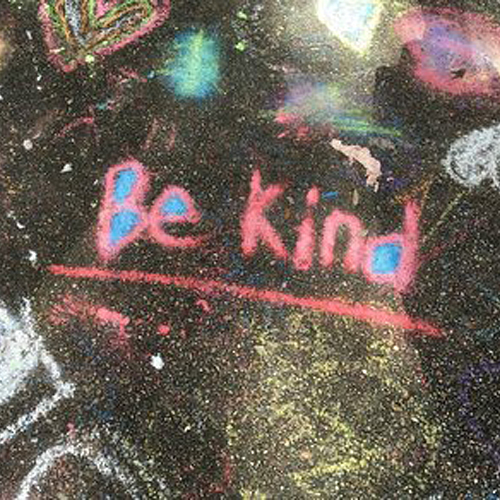 Greater Manchester is joining together through acts of kindness as we respond to #COVID19. During Menta lHealth Awareness Week, we're celebrating this and we thought we would share a few simple ideas of how you can share a little kindness too. Even during lock-down.


Put an image or quote in your window for passers by to see.
Comment on a friends social media post with encouragement.
Share your favourite self care tips online for others to take inspiration from.
Buy a card or gift from a small business and send it to a friend.
Make a cup of tea for someone you live with, or have a virtual cuppa with a friend.
If sending a letter, put a note on the envelope thanking the postal workers for working hard still.
Ask someone how they are, and listen to what they say.
Call a friend, family member or colleague and ask how they're finding the change in routine.
Lend your favourite book or film to a friend by posting it to them.
Call someone you love for a catch up rather than texting them.
Share an encouraging quote on social media and counteract some of the negativity.
Add a few tins extra to your shop and donate them to the food bank.
Send an interesting article or funny meme to a friend.
Retweet or share a small businesses website and help them reach new customers.
Leave a thank you note out for the bin men on the day they collect your rubbish.
Suggest a skill-swap with a friend. E.g. you teach them painting and they teach you French.
Tell your friend or a colleague that something they've done is great.
Sort out your wardrobe or cupboards and bag things up for a charity when they re-open.
Buy a voucher from a shop, restaurant or bar to use when they re-open.
Write out some positive notes and hide them round the house for you or people you live with to find.

Finally be kind to yourself. Take time to relax and reflect in whatever way you like to do. Go for a walk, have a bath, read a book, have a nap. There should be no pressure or expectation for you to be productive and busy all the time. Remember you are not working or living normally from home. You are working and living through a pandemic and any way you can get through this time and look after yourself is fine. Do what works best for YOU.


Tag us in on social media and share what your favourite acts of kindness or self care are.
Twitter: @42ndstreetmcr
Facebook: @42ndstreetmcr
Instagram: @thehorsfall_42ndstreet
#kindnessmattersinGM  #TogetherGM