22 April 2023
The Future Is Ours 2023 Projects
Author: Sarah Jones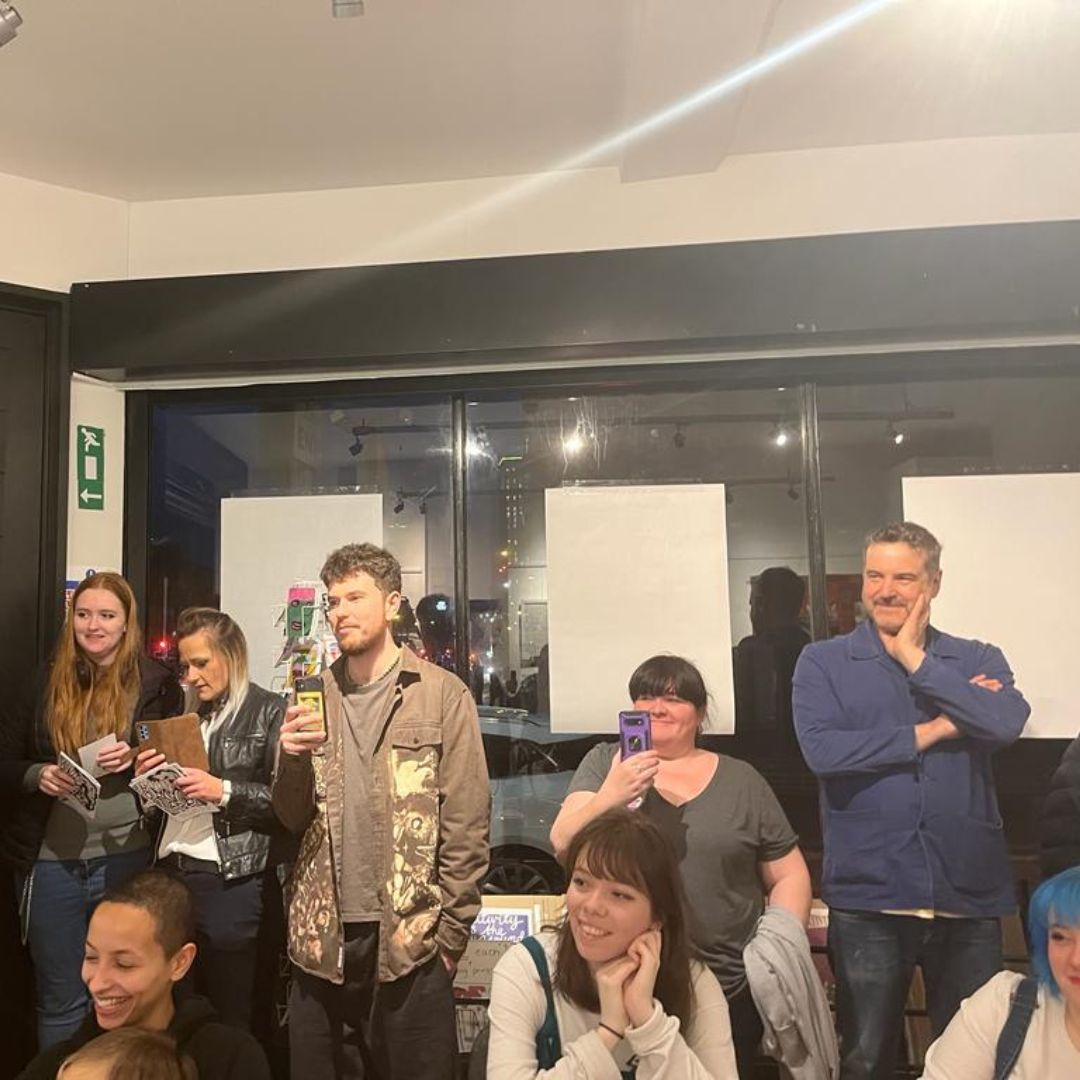 This was our third The Future Is Ours festival and it featured original artwork created by 9 young artists, from a unique project which links them to a full-time local artist to fully realise their ideas.
The festival projects provides the opportunity for young people to take a lead on the subject, medium and creative direction while learning new skills and the practical sides involved in creating and exhibiting artwork through the mentoring of the full-time artist. This approach allows them to gain skills and experience which go on to support them in the future and ensures that the young people get to say what they want in the ways they want to say it.
This years festival was one of most exciting yet, launching our 'The Right To A Creative Life' campaign and showcasing a wide range of work from a huge map, new songs, immersive art exhibitions, creative spaces no bigger than a sketch pad to the first-ever Festival of Randomness.
Each young person had their own electronic billboard showcasing their work around Greater Manchester and an exhibition at The Horsfall and Ciera had a whole day of randomness too!
Ivy & Rebecca - Nature is not perfect but it is beautiful if we embrace the chaos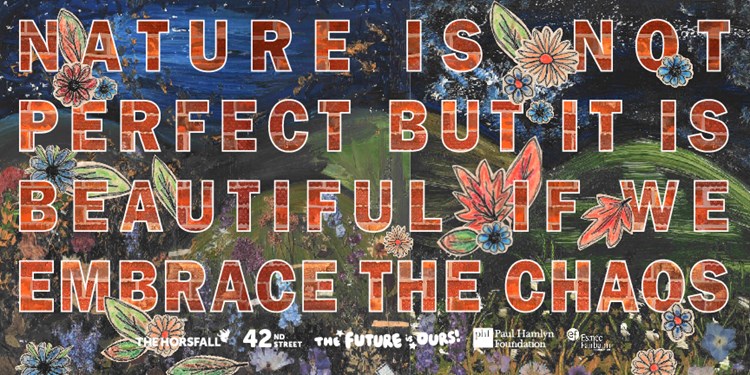 About Ivy
"I love painting and drawing because it allows me to look at things from a new perspective and connect with people. I also find that it's easier to express myself through creativity as opposed to talking or writing. I like experimenting and trying new things which really influenced this piece of work because I wanted to try lots of different techniques and mediums, including ones that I had never done before like machine and hand embroidery.
I think creativity is so important because it encourages you to do something original rather than copying other people, so you have to find things out for yourself and experiment. Rather than sticking to one thing that you've been taught and do really well. This project is a good way of practicing that because in school art classes you're more led and told what you're meant to do to get the highest marks. That is creative because you are experimenting and learning new things but you're doing things because a teacher has told you what will help your grades. But with this its less forced creativity and more just you doing exactly what you want without any pressure on the finished piece.
I was interested in this project because of the creative freedom but also because I think it's really important to encourage and showcase young people's art. If no one is looking at or displaying your art you don't feel proud of it and you get demotivated to be creative but if it's showcased young people might be more motivated to continue with their artwork and we'll have a future with people doing more creative things. Art is so important for everyone, it helps self-esteem, confidence, happiness and it makes you think about things in more creative way which is really important."
Ivy collaborated with Rebecca Coughlan, a artist who has worked primarily as a Costume Designer and Illustrator. Rebecca's practice has spanned a range of media. Including textiles, embroidery, oil painting and fine line artwork.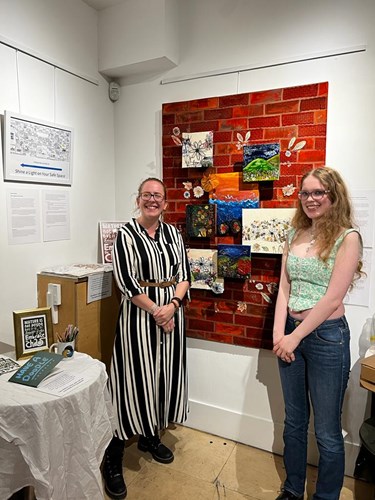 Rebecca Coughlan and Ivy Smith's Project
They used wire, acrylic and oil paints, hand and machine embroidery, fabric, lace, papers.
Ivy said that she wanted to 'make something beautiful and happy so that when people see the final piece and billboard they might stop, think it's pretty and it could make their day a little happier'.
Their final piece aims to bring a creativity and nature to the industrial Manchester city centre. It is an accumulation of eight weeks of experimental work learning new techniques in a variety of mediums. The piece is about indecision and embracing the chaos, fun and beauty that nature and mixed media have.
They both wanted to simply have fun by learning and playing with different techniques in a way that the school and professional creative fields don't always allow. So, for each week of our project we tried a new technique but always kept nature as our central theme. they used hand and machine embroidery to sew flowers, oil and acrylic to paint landscapes, fabric and lace to enhance backgrounds and add texture plus various papers, beads and wirework to create butterflies and flowers.
Then for the final piece they created a painted brick wall canvas for the backdrop, using floral lace and sandpaper as a base beneath the paint to represent the contrast between the city and countryside. Then they had all of our weekly experimental work expanding from the centre in a colourful array of nature and creativity.
Rebecca said that 'To just pick up a pen, have a doodle and simply enjoy the process with no care about the finished piece is such a relaxing and freeing experience that it saddens me how few people do this.' So, after you have viewed the final piece please do pick up a pen and have a doodle yourself!

FREEQUENCY3 - An EP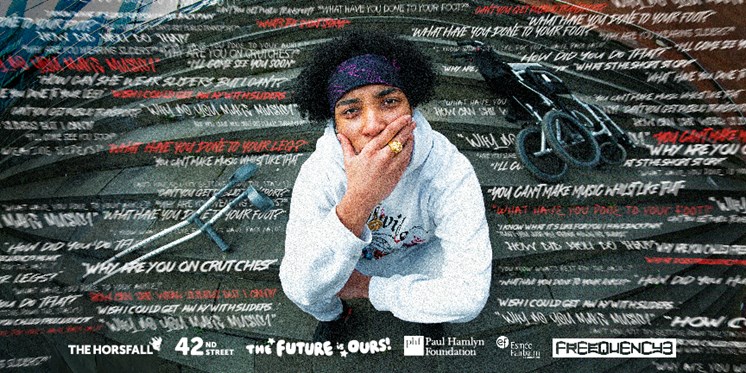 FREEQUENCY3 is an Alternative HipHop rapper, DJ and host.
FREEQUENCY3 explores emotion, values & the ripples of life through music, both written and freestyle.
Over the past year she has supported Dizraeli on his UK Tour and rapped in the 'CalibySnoop' Cypher, which brought together some of Manchester's best rappers to launch Snoop Dogg's CalibySnoop wine in the UK. In her spare time, she enjoys being around friends and family, listening to music, watching tv, gaming and relaxing.

"This project is special to me as it is a representation of the past 18 months of my life. In September 2021 I DJ'd at Parklife and woke up the next day with debilitating nerve pain, making me unable to walk. Since then I have been on a wild journey trying to understand what is going on in my body, whilst managing the impact of poor physical health on my mind.
Music has given me the freedom to feel, explore the impact of my life changing overnight and find joy within creation. When life changes overnight and everything falls down it leaves you feeling lost and uncertain of a future you were once certain of. So, the best thing you can do is feel what you need to feel, reach out to those who care about you and find a new reason to live, enjoy life and make sure you love yourself, regardless of the physical or mental change that comes."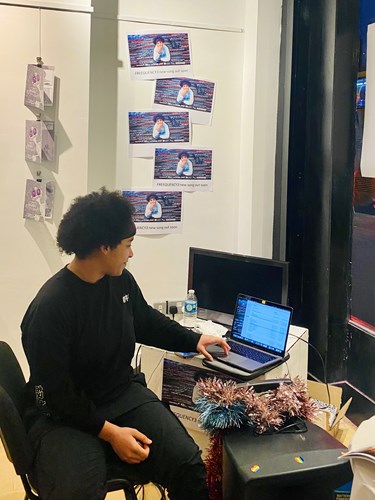 For this project, Freequency3 has produced an EP, and through this has been exploring the impact of different Hertz on the body corresponding to different chakra energy centres.

Gemma O'Brien -Shine a light on your Safe space.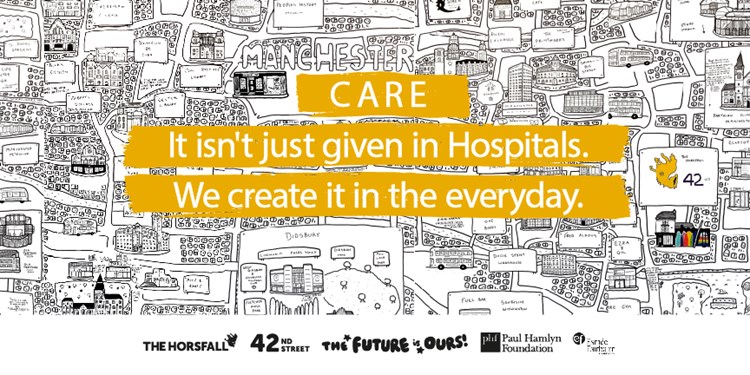 "Where in Manchester do you go to relax? We so often associate natural landscapes like beaches or mountains as being places which have calming or therapeutic properties. Contrastingly, the city can often be thought of as busy, unsafe, or overwhelming. In a similar vein when it comes to mental health it is easy to associate psychological professionals and clinical spaces as having a foundational role within our own recovery. It was however my own lived experience of finding refuge in 'GranTs' an independent coffee shop in Altrincham during the height of both lockdown and a relapse with my anorexia, that I became aware of how everyday places can improve our wellbeing in overlooked but invaluable."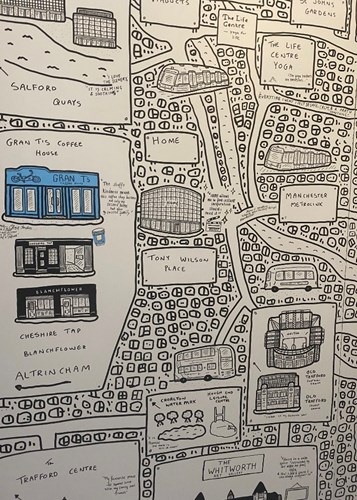 "The staff namely Laura, Chris and Jordan always tried to make me feel special. Asking how my day was, writing my name on take out coffee cups and genuinely caring about me and my own recovery. When I was struggling with my eating disorder, I found it very challenging to go to new places but I always felt and continue to feel safe and cared for in GranTs. It became my second home."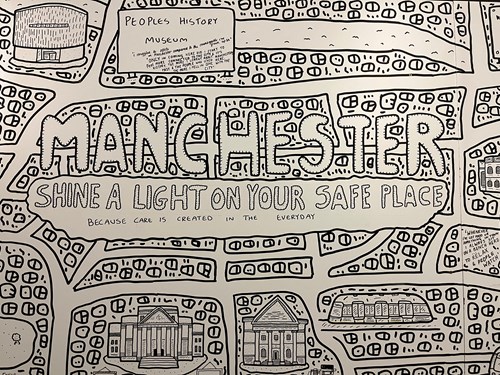 "While lockdown may be over, both young people and services themselves are still in crisis. Not only are more young people than ever battling mental health issues but austere cuts to the social budget subject young people to liminal waiting lists, sometimes for up to two years. There is therefore now an unprecedented need to think of new ways to support young people's mental health. In acknowledging my own relationship with GranTs and acknowledging that my experience cannot exist in isolation I sparked an idea to give young people the opportunity to share their favourite place in Manchester to relax. The map below is, therefore, the outcome of this idea and project I designed called "Shine a light on your Safe Place' which aimed to illuminate the everyday therapeutic parts of the city which young people value."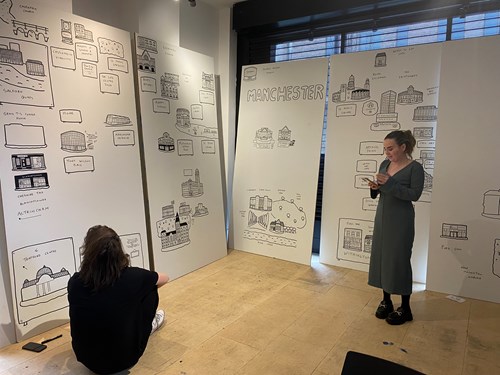 Making the Map
Over summer 2022 I began to turn this idea into a reality. I launched an online photo submission which gave young people the opportunity to share a photo of and the story behind their safe space in Manchester. While open to interpretation this could be a place where they felt they could relax or a place where they felt they belonged and were valued. The project was advertised online but also through community groups, leaflets dispersed across the city and at events such as BeeWell.
After collating over 100 photographs and stories, I collaborated with Manchester Artist 'Dave Draws' to visually illustrate over 100 places in Manchester that young people age 13-25 identified as their safe space. The map features a range of spaces from libraries to museums, coffee shops to canals and even the Arndale.
With the permission of those who participated, I have also woven into the map short quotes illustrating what makes this space safe for the individual.
Examples include:
The Life Centre Yoga Studio in Deansgate '…Every time I went, I felt so safe, calm and a part of something'.
Takk on University Green: '…a space to escape university, people watch and breathe'.
HOME Cinema '…Home allows me to find inspiration should I need it'
The Whitworth '… being in a calm space surrounded by art made me feel calm and that I had a space I can always disappear to'.
Looking at the map, I'm sure there is a space you have been to and have a memory of but I also hope this map acts as a source of inspiration for new places to visit if you are having a bad day.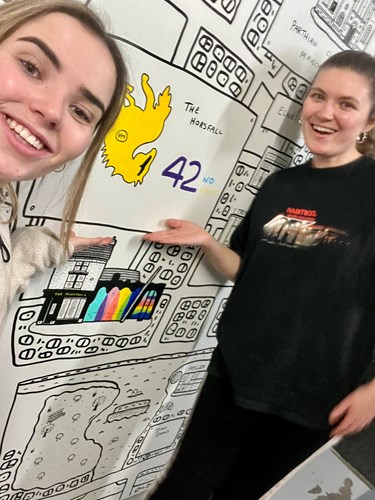 The Horsfall is illustrated in colour as the gallery, art spaces and people using the space here have become both a second home and a second family to not only myself but for many and finally, as this project began with my own relationship to the coffee shop GranTs. I chose to put GranTs coffee shop in blue as a tribute to my wonderful friend and the co-owner of GranTs, Laura Phelan who sadly died this time last year. Her unending kindness touched my life and many others beyond belief. This map is therefore not only a source of inspiration of places to go but a representation of gratitude for the everyday acts of kindness which go a long way."
For the project, Gemma collaborated with 'Dave Draws', a freelance illustrator, mural artist and serial map doodler originally from Chesterfield but living in Manchester.

Laraiya Wilson - Spikes Experiment, 2023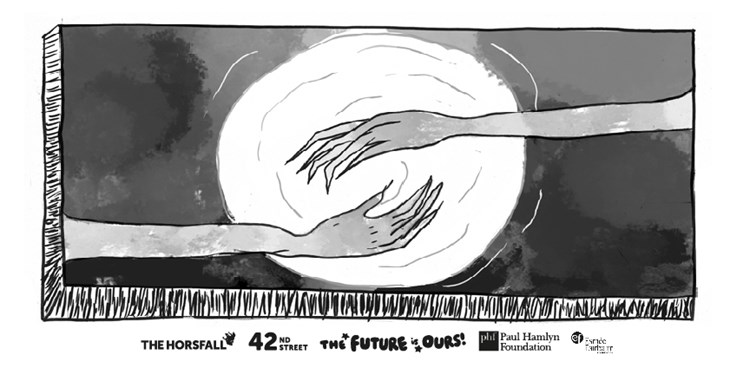 "I'm Laraiya, I'm 14 years old from Manchester. I like anime, gory stuff, k-pop and K-dramas. My influences are The Nightmare Before Christmas, Five nights at Freddies and Stranger Things.
I find comics fun and take my mind off things, my process for making comics is writing the story, thumbnailing, sketching and inking the comic.
I've had my idea 'Spike's experiment' since August last year, I created the character Spike from clay and later created his friend Mimi."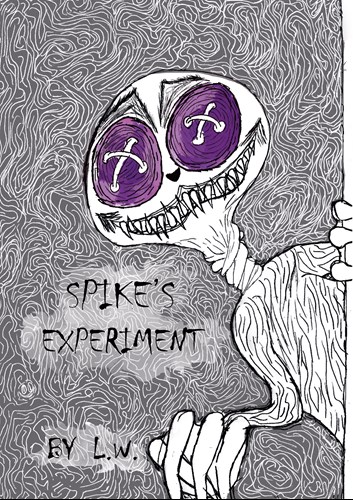 Laraiya collaborated with Cath Garvey, a Freelance Illustrator and comic artist based in Liverpool, for her The Future Is Ours project.
"For The Future is Ours Festival, I worked with Laraiya to create 'Spike's Experiment'. A short horror comic about a boy who transforms into a monster.  I found making the comic with my young person fun and reminded me why I make art to begin with.  I'm really proud of what we've made together and I hope writing stories is something Laraiya continues to do."
My young person does not have art as a subject as her school which I find awful- when I was at school, art classes was an escape and ultimately got me through the school day. It's clear 42nd street has given her a place to escape to and has given her chance to explore art."  -Artist Collaborator: Catherine Garvey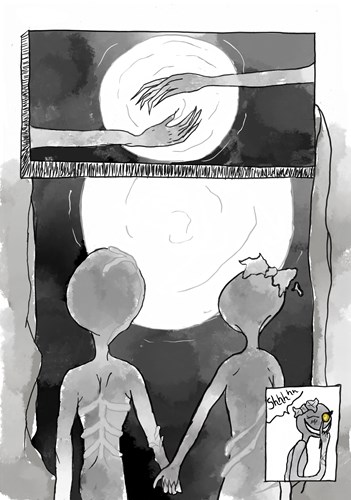 Mahdiyyah Ahmed - Every Part of Me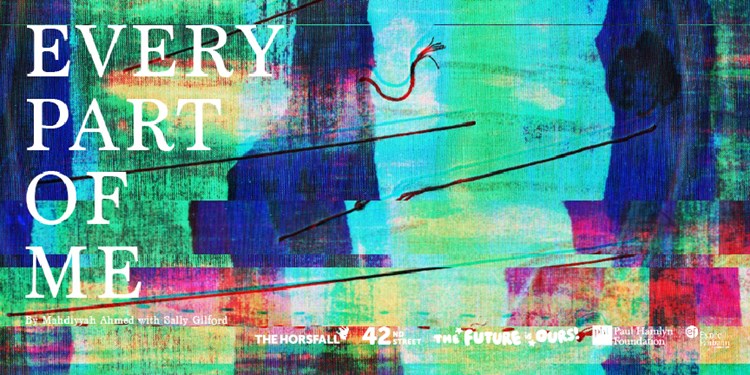 "Using my journal as the starting point, I incorporate different mediums to create tactile and textural pieces.
I am interested in exploring a variety of techniques and processes including illustration, collage, embroidery, painting, print and textiles.
My creative practice allows me to re-interpret my lived experiences in a way that remains anonymous yet very personal. It gives me the space to unravel, process and reflect.
My work is intuitive, experimental and intimate."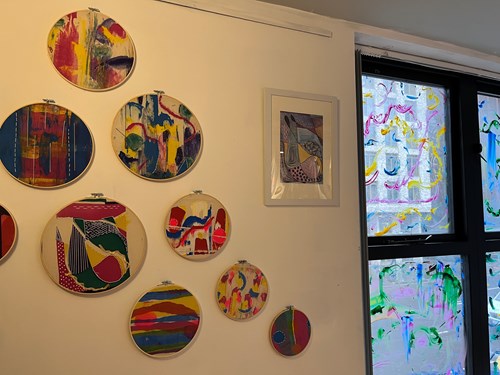 "Working on this commission has given me the opportunity to learn new creative skills and techniques including screen printing, print design and exhibition curation. Learning the full process of creating artwork to installing an exhibition including all the behind the scenes work that goes into making projects like this happen - materials choices, budgets, installation plans, timescales, planning and much more.
Consistent support and encouragement from Sally has enabled me to trust her to help me create artwork on a larger scale which, initially was quite daunting, has become an incredibly exhilarating and liberating experience."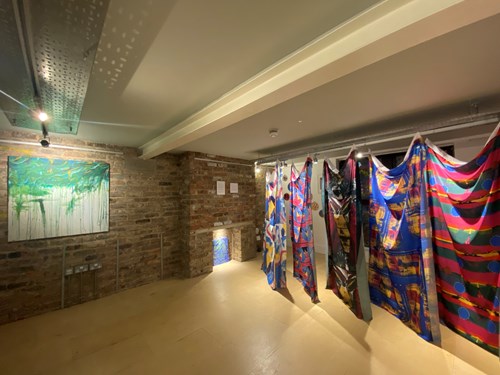 "This is Me.
Every Thought.
Every Process.
Every Memory.
Every Emotion.
Every Part of Me."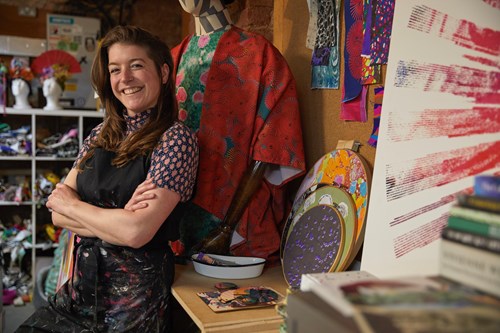 Mahdiyyah collaborated with Sally Gilford, for her The Future Is Ours project. 

Sally Gilford is a socially engaged artist and creative producer based at Islington Mill in Salford.
Her participatory approach encourages the exploration of multi disciplinary art forms to encourage self-expression and creative experimentation. Process-led artistic collaboration is at the heart of her practice. She works with people and communities to connect ideas and creativity to place, identity, heritage and science.

You can see more of her work @sally_gilford

Maja Krosniewska - I am Here, 2023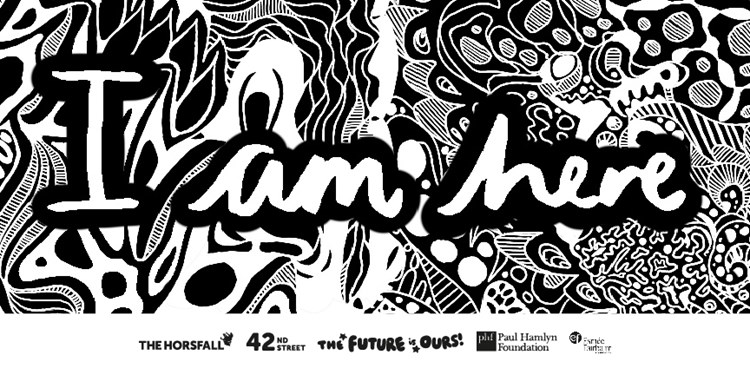 "My name is Maja, I'm 16 and a young artist based in Manchester. My preferred art medium is fine-liner or black ink; it dries fast and the way in which I draw requires me to move my hand around the page, and art mediums such as paint or pencil simply wouldn't work in my style.
My influences are the world around me- I often take inspiration from the patterns I see in different situations, such as straight lines, loops or repeated patterns.
I like drawing because it's a way for me to relax and almost document what I'm feeling- some of my art is dependent on mood, for example filling in more of the page in black when I'm feeling low and don't have the motivation for elaborate patterns.
I started my project around the same as I started college, which was a way for me to ground myself and keep a routine when everything else seemed unpredictable, stressful and chaotic. The project is made up of art I made externally; most of the art incorporated wasn't actually made for the project itself, which makes it more real and personal to me (and hopefully to you). It was a mix of scanning older art I made and experimenting with media I have never used before (such as drawing in white gel pen on black pieces of wood, which turned out very well)."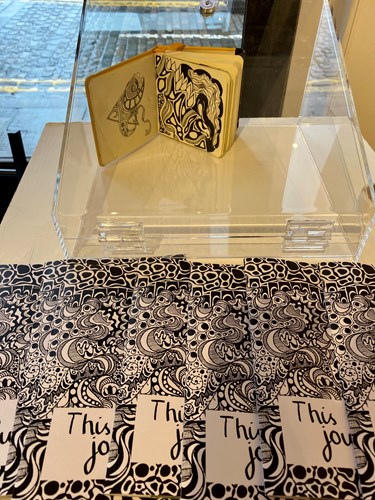 "My sketchbooks are my diaries; I bring my sketchbook everywhere so that I always have the opportunity to shut out the world around me and focus on the patterns and lines. I find it so comforting to know that it's always with me and I can rely on it to express myself when I can't find or use the words.
I'd like people to know that my project is only one small part of the art world, but it's equally as significant as the work of Picasso or Da Vinci. Art isn't about who sees it- it's about the process and leaving a mark in the world which could help someone. Art is about being there and being present, even if the artist themselves isn't.
And.. I Am Here."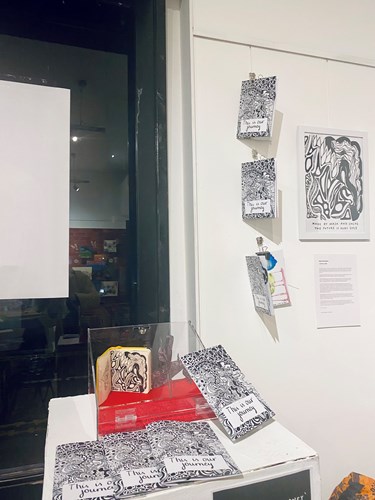 Maja collaborated with artist Chloe Watts on this project. Chloe is a 23-year-old Illustration with Animation graduate and also designed street posters for our 'The Right To A Creative Life' campaign.

Princess Arinola - Digital Dis-Connect, Haikus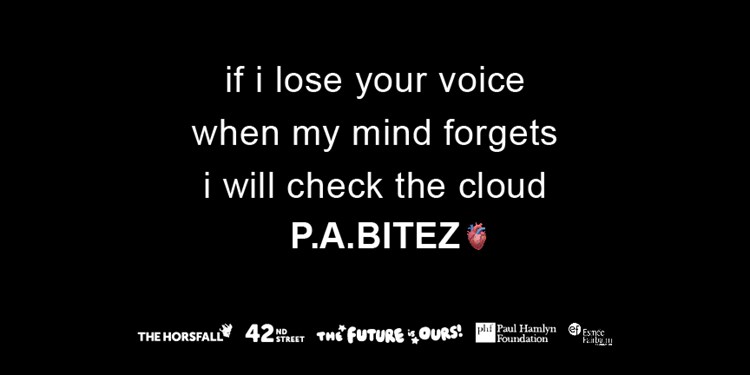 "Creativity is love. Creativity is my love language to myself. When the world is heavy and confusing, I can find some calm in my art and art generally. During the best and worst moments of my life I've found myself needing to write, sing, paint or dance. Poetry, music and film making are my most practiced mediums, but creativity keeps me alive.
These tender haikus are separate poems having conversations with each other.
In the poems I explore connectivity, and the liminal space between technology and reality. I take on short forms to reflect the ephemeral nature of social media and tech. I wanted to squeeze love into the littlest space possible which reflects the pace of modern life. "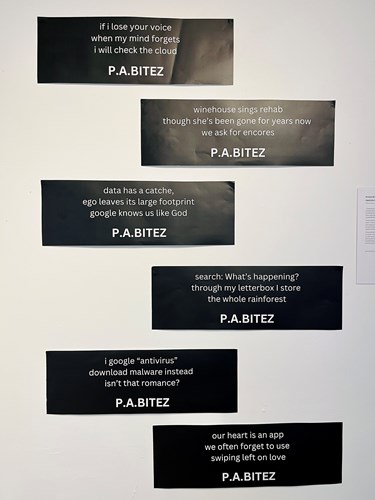 Princess Arinola Adegbite is a multi-award-winning poet, Youth Music funded musician, voice over artist, author, filmmaker, and BBC Words First artist. She is a MIF artist and active member of Young Identity. In 2021 she was awarded Manchester Young Creative of The Year and in 2022 she was awarded a Castlefield Associates Prize. She's been commissioned by Selfridges, University of Cambridge, and the BBC.
Princess Arinola collaborated with Helen Mort, an award-winning author based in Sheffield, for her The Future Is Ours project.

Katie, Women's Group - "Love is an action never simply a feeling"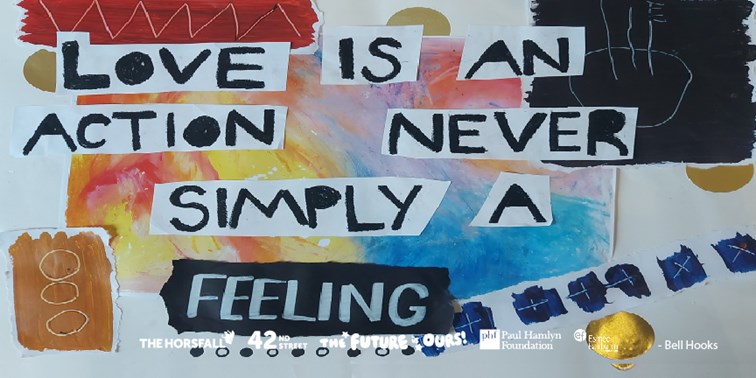 Katie has been working with us as a young practitioner and was helping run the sessions for our Women's Group alongside Emily Simpson.
Katie created the billboard image using Bell Hooks quote from a technique used by Emily Simpson.
The work is surrounded by Katie's work which she tells us about here:
"These pieces are about expression using textured materials. The aim of this artwork is to use bubble wrap however you see fit. Applying meaning to portray different emotions/ feeling/ time or place that only the artist knows, using mindfulness with a creative outlet, this is done by twisting, ripping, bursting or cutting the bubble wrap while putting a connotation to the movement.
The art -under and over the bubble wrap- represents what the art piece is about but still has its own personal meaning to the artist, this could be anything from a childhood memory, or something you're manifesting for the future." -Katie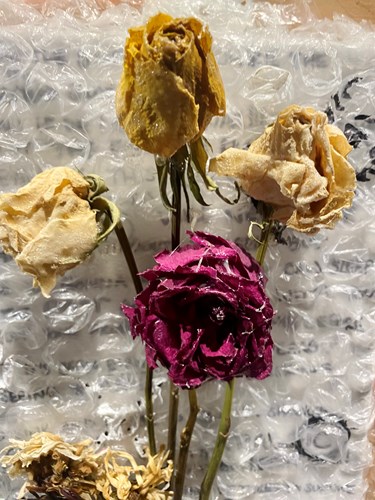 Ciera Wooller - The Festival of Randomness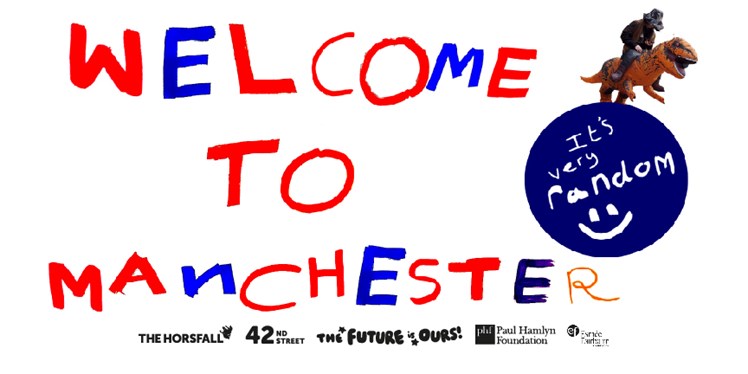 The day was all about letting go and being in the moment. Ciera, who was paired with The Shoopery for her The Future Is Ours Festival project, curated the day. Ciera wanted to explore creative expression, being 'random' and spontaneous in the moment following instinct vs overthinking.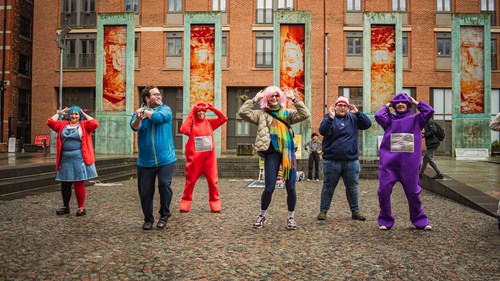 Explore more of the 'Random Day' here.
Other artwork and projects showcased at The Future Is Ours:


Sam Frost - Bricks, Steel & Petals 2023
A Manchester photography collection.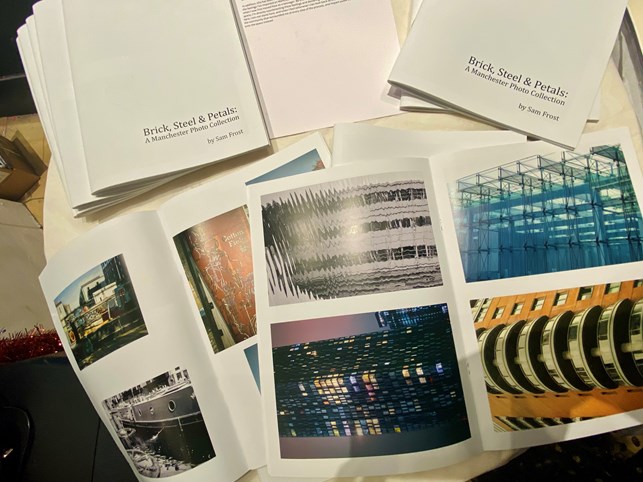 "The creation of this photobook, at every stage of the process, has been both a lesson in letting go and an assertion of my feelings onto the city.
My perfectionism often stifles my spontaneity, so for this project I tried treating every shot as if it were disposable. This gave me more freedom to move and get in tune with my surroundings, and allowed the camera to become a better extension of my eye. Practising squeezing beauty out of 'imperfect' work in the editing suite showed me something doesn't have to be perfect to be worth making, and sharing the final products showed me tiny imperfections are often only visible to the creator, and are insignificant with respect to the rest of the art presented.
In addition, this has been a reclamation of the city and its space for me. Places carry memory, and the feelings I've imparted on Manchester have forever reflected the isolation and alienation I felt when I was first moved here as a teenager. By sharing this book, with its record of how I see the space, I'm directly counteracting these feelings and declaring my belonging. I am not an alien here, I am not alone here, and when I feel otherwise I can look back at this work, remind myself of the community that surrounded me at every step of the process, and impart some new feelings onto the space instead." - Sam