Tameside, Oldham & Glossop Mind have teamed up with 42nd Street to bring your ideas of what mental health support should look like to life.
Introducing Community Hive, Tameside & Glossop's Community Mental & Emotional Wellbeing Offer, providing a range of support, information, guidance, and training to young people age 8 - 18 years old, living in Tameside and Glossop.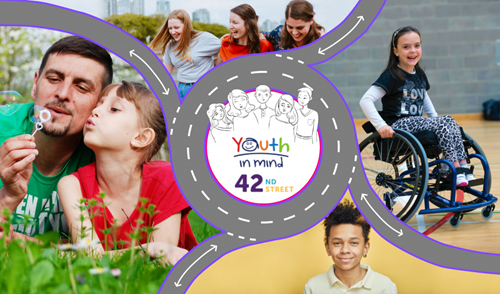 Delivered via local community bases located in Ashton, Stalybridge, and Hyde they offer a wide range of support including. Finding a local drop-in is the best place to start in exploring what's on offer.
To access any of the services here - pop over to the Community Hive page to find a hub or drop-in near you.

Drop-in
A drop-in is your chance to speak to a practitioner about what's been going on in your life. It's a confidential space to explore your issues and talk about what kind of support you would like.
This is where most journeys through Youth in Mind begin.
The practitioner will complete a basic assessment of your current needs and difficulties. The purpose of this is to find out which service would be most appropriate for your needs. Examples of questions you may be asked, are:
What brought you here today?
How long have you been experiencing these difficulties?
What do you currently do to cope with your problems?
Following your drop-in appointment, you may be placed onto a waiting lists for further services, which can include work with 42nd Street.
Support can range from one-to-one support to group work. They'll also do their to signpost you to other local services if they can meet your needs.
Similar to 42nd Street, Youth in Mind aren't able to provide diagnosis of mental illness or neuro-developmental disorders. For support in getting a diagnosis of any kind, please ask your GP.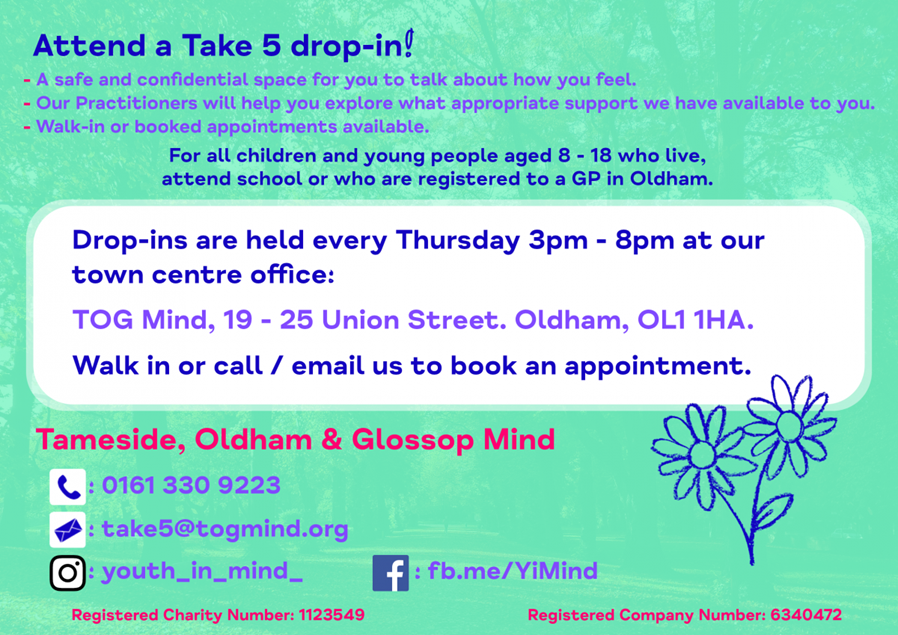 One to one Support
Youth in Mind offers a variety of different 1-1 support for children and young people. The services they offer can vary depending on where you are. When you attend a drop-in appointment, your practitioner will let you know which services are available at that hub.
Early Intervention
Early Intervention consists of one 20-minute appointment a week for 5 weeks. Early Intervention focuses on anger, anxiety, low mood, self-esteem and stress.
You'll work one-to-one with a practitioner and chose what to focus on, learning more about these experiences, understanding symptoms and triggers and learning different strategies to manage the impact of them.
Early Intervention is classed as a 'guided self-help' service and works best if you're committed to trying the strategies discussed outside of sessions yourself.
SFT - Solution Focused Therapy
Solution Focused therapy consists of one 40 minute appointment weekly, for 6–8 weeks. You'll work one-to-one with a practitioner to identify the difficulties you're experiencing and then set a SMART goal to work towards.
Over the following weeks and by using guided self-help the practitioner will help you discover and identify strengths and apply them to areas where you're experiencing difficulties.
Counselling
Counselling provides a safe, confidential space to explore what's going on for you in your world. The counsellor is not there to judge you or anyone else. Their sole purpose is to help you manage your difficulties and work together to resolve them in a positive way.
Arts For Wellbeing
These groups are for all children and young people aged 8-18, who may or may not also be accessing other Youth in Mind services. To access these groups, you don't need to attend a drop in, you can just show up and get creative.
Each session will look at how art can be used to maintain good mental health or just to help express ourselves, get lost in creativity and let off steam!
To access one of these groups, simply pop along to a drop-in or call ahead on 0161 330 9223
Therapeutic Courses
Youth in Mind offer a variety of different therapeutic courses for children and young people that can vary across locations. When you attend a drop-in appointment, your practitioner will let you know which courses are available at that hub.
Each course is made up of one 60 minute session each week for 4 weeks, and each aims to help you learn about different mental health issues by discussing and sharing experiences within a group of up to 8 young people.
Like our Early Intervention service, we class our therapeutic courses as "guided self-help", which means everyone attending has a responsibility to try new tools and techniques in between sessions and to contribute to group discussions and activities in a productive way, which helps create a therapeutic environment in which we all learn and grow from the experiences of each other.
Both "junior" and "senior" group courses are available to ensure that young people are working with others their own age. To access these you'll need to go along to a drop-in session first. Many groups are classed as "guided self-help", so commitment to putting strategies into practice outside the group is often vital to success!
Bee Resilient
This course is about building resilience and improving wellbeing through various tips and techniques and runs for an hour each week for 4 weeks for up to 10 people at a time.
Anger
Up to 8 young people can attend 60 minute sessions each week for 4 weeks for this course, exploring triggers, symptoms and coping strategies around feelings of anger. There's an emphasis on sharing experiences and exploring alternative, productive expressions of difficult feelings in a this non-judgemental environment.
Anxiety
Explore the triggers, symptoms and coping strategies to help manage anxiety and minimise the impact it can have on your life in this course. 60-minute sessions take place each week, for 4 weeks and up to 8 young people can join either junior or senior sessions.
Hear our Stories!
This is a new, youth-design project, created by young people to share their voice and experience of mental health and wellbeing. ​The project has been funded by Mind, the national mental health charity, in partnership with the Co-op.
You can get involved by sharing your own story or simply read what others have shared.