Thriving at Work
This report is written by young people, with lived experience of mental health conditions, to help young people thrive in the workplace. Please download and read the report.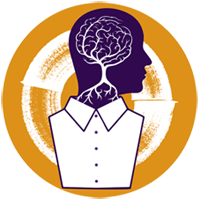 Thriving at work
In 2020, we released our THRIVE report, which is written by young people, with lived experience of mental health conditions.
42% have had a negative experience with their mental health in the workplace.
38% stated that this was related to stigma or judgement.
Downloads
Research
We wanted to understand what the key issues are for young people at work, so we carried out research with 150 16-25 year olds to understand what their main concerns are.
The Theme
After analysing the data, we identified 3 key themes that needed to be addressed; Support, Flexibility & Workplace Culture.
58.8% believed talking to their employer about mental health would impact them negatively.
38% felt that any form of openness about mental health in the workplace would be helpful.
The Report
We've written a report than digs into these three key themes, discussing the problems young people face and creating recommendations for employers to ensure they have a working environment that is mentally aware and open.
Online Survey
Flexible: participants could start and finish the survey in their own time.
Anonymous: allowed participants to be completely honest without having to reveal their personal identity
Data
Quantitative data: to identify patterns.
Qualitative data: Useful for contextualising these patterns.
Demographic
Young people aged 16-25 that have either been employed or currently in employment.
This demographic struggles to find their voice in the workplace, often due to lack of confidence and experience.
Location: The survey was conducted in Manchester around the universities and also shared through social media.
Sample size: 141 participants.
Duration 5 months
Useful website links
Below is a list of useful links and downloads. 
Training Services
Online Courses
Know Your Workplace Rights
Georgie: I got involved with 42nd Street's employment rights campaign after struggling to find and hold down a job due to my mental health. Often employers are unknowledgeable or unsympathetic on how to navigate young people's mental health in the work place. Doing the campaign helped me build my confidence and expertise through enjoying work and eating crisps with our amazing group. I have learnt a lot about what my rights are in the workplace, and how to assert them, and often support other young people who come to me asking how to do the same.
Josh: I started working on this campaign because I think it's so important for everyone to have a voice. We spend most of our time at work and many young people struggle to find their voice at work. I want to help change this and encourage employers to become more transparent with what help they can offer. Having struggled to find my voice in different situations I can sympathise what it is like and this needs to change.
Izzy: I joined the campaign because I knew from personal experience, and from hearing the experiences of friends and family, that work often negatively impacts people's well-being and causes or exacerbates mental health problems. However, I know the impact of better support, education, and other positive changes within a workplace can change lives, and so I believe we should all be fighting for those changes however we can.
Nadia: I decided to become involved in this social action project as I wanted to make a difference to young people's lives and learn more about our rights. Not only have I met some wonderful people, my confidence has increased a lot. It became clear at the start of the campaign that two main issues were faced by young people. These were employment and mental health. We decided that it was necessary to combine the two and research it further. I have thoroughly enjoyed being a part of the group and hope that now people are being more open about mental health it will also improve for the coming generations in the workplace.
David: I came to join this campaign in October 2018 where I decided to see what the group was about. I have really enjoyed being a part of the campaign and getting involved with the different sessions. It has been very interesting to learn about the employment right's and people who have had problems in the work place. I also enjoyed doing the Wheel of Fortune at the People's History Museum for the Radical Late. I am so glad that I have been involved in this group and I will miss it so much.
Jemima: To be honest I initially got involved with the campaign because I wanted to be part of a group as I was quite isolated at the time. I didn't necessarily join because of an interest in campaigning but this definitely developed over time! I now feel really passionate about making a change for those who need it and ensuring everyone's voice is heard.
Other articles you may be interested in