Understanding Abortion
Mid read – 5-10 mins
This article mentions: Abortion, unwanted pregnancy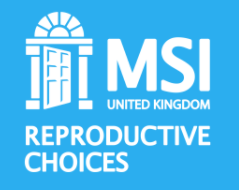 We have worked with MSI Reproductive Choices to create easy and digestible information about the treatment they provide and the wonderful mental health support they offer. 
Here's the essential information from MSI about having an abortion in England:
If you have recently found yourself unexpectedly pregnant, you may be feeling overwhelmed with mixed emotions. 1 in 3 women will have an abortion by the time they are 45 (British Pregnancy Advisory Service), so it should never be something you have to process alone without support. Thankfully there are lots of resources available to help you come to a decision.
So, let's talk about your options. If you find yourself pregnant, you have three options;
You could continue with the pregnancy and raise a child
You could continue with the pregnancy and consider adoption or fostering
You could end the pregnancy with an abortion
Whatever your decision it is entirely yours to make. For some, having an abortion is their best option and they feel secure in their choice. However, others may find it a difficult decision to make and may need more support when having an abortion. Some people may feel fine having an abortion, however it may affect their mental health at a later date. An abortion is a personal experience, that everyone experiences differently. The important thing to remember is that there is support available (link down to the 'support available' section) every step of the way during your pregnancy. So, whatever decision you make – you are not alone and there is help available.
If you decide having an abortion is the best course of action for you, there are 3 main ways you can receive free treatment;
Types of abortions
There are two types of abortion: medical abortion and surgical abortion..
The type of abortion you choose will depend on the factors below;
How many weeks pregnant you are
Your medical examination
Your personal choice
Medical abortion
If you are less than 10 weeks pregnant, you are eligible to have the medical abortion, which involves taking 2 pills.
MSI Reproductive Choices offers a 'At Home Abortion Treatment' (Telemedicine), where you can take both pills in the privacy of your own home. However, if you feel you want a nurse to accompany you during your medical abortion, you can also take the medication in a clinic and choose to have face-to-face care.
To find out more about a medical abortion, click here
Surgical abortion
Surgical abortions are offered up to 23 weeks and 6 days into pregnancy. A surgical abortion is where the pregnancy is removed vaginally by an experienced doctor using a suction method.
If you are under 12 weeks pregnant, the procedure is quick and simple (a 5-10 minute procedure) and you may not choose to have anaesthetic.
If you are over 12 weeks pregnant, you will be given medication to prepare and dilate (gently open) your cervix. This can take 3-6 hours, depending on how many weeks you have been pregnant. You will wait in the clinic during this time. You will be offered sedation or a general anaesthetic and the procedure will take up to 20 minutes.
After your treatment, you'll spend some time in a recovery lounge to rest until you're ready to go home.
To find out more about a surgical abortion, click here
Abortion aftercare
Recovery after an abortion can be different for each individual. However, you should usually feel better within a few days. However, if you're experiencing any problems (emotionally and/or physically) you can contact MSI Reproductive Choices on their dedicated abortion aftercare, available 24 hours a day, every day.  
As part of your abortion treatment, MSI Reproductive Choices offers contraception counselling: in fact following an abortion your fertility will return almost immediately. If you do not want to get pregnant after having an abortion it is important to have a contraceptive method in place as soon as possible. At your abortion appointment, you will be offered a range of contraceptive methods and we'll be there to advise and talk through your options with you.
"Choice" MSI UK's Digital Contraception Counsellor
If you need help choosing the best contraceptive for you, try MSI's online contraceptive counsellor "Choice": you can explore your options through a short series of questions to find the best contraception for your needs, or compare and view information on specific contraceptive methods.
Support available
Having an abortion can emotionally affect people differently, and it is completely normal to feel like you need support during this time.
Due to the current COVID-19 pandemic we have had to reduce the footfall within our centres to keep all clients and team members safe. We cannot guarantee that the person that will be supporting you will be allowed in the centre. Please do speak to one of our advisors when booking your appointment as we are regularly updating our guidance around COVID-19 and can discuss with the clinic. Patients who are under 18 or vulnerable can attend with one other person they may be asked to wait outside.
To find out more about how to prepare for your abortion, click here
MSI Reproductive Choices offer free counselling for anyone who wants to talk about the abortion process before their consultation appointment. They also offer counselling for anyone post-treatment who feels they need to talk. MSI Reproductive Choices offer phone or face-to-face counselling sessions.
To find out more about the counselling available at MSI Reproductive Choices, click here or to arrange an appointment with a counsellor, call 0345 300 8090 any time.
Not ready to make a phone call? A live chat is available
If you are not ready to make a call, or you are worried about your privacy or about someone in your household overhearing you conversations, you can live chat with MSI Reproductive Choices' advisors on their website: https://www.msichoices.org.uk/
How to get in touch 
There are a number of ways to get in touch with MSI Reproductive Choices: 
You can call the advice line at the following numbers: 
England, Scotland and Wales: 0345 300 8090
Northern Ireland: 0333 234 2184
Ireland: 1 800 200 374
International: +44 (0) 1454 457 542
Or, if you prefer you can choose to live chat with an advisor on the website: https://www.msichoices.org.uk/  
At 42nd, we also offer support if you ever feel you need to talk;
If you want to talk about your mental health you can chat to someone online via text, you can register for ongoing online support via our online support portal. We also hold weekly drop-in sessions so that you can speak with a worker without an appointment. 
We provide a number of face-to-face services too, all of which offer something slightly different depending on what's best for you. Overall, though, every service provides you with someone who will listen, acknowledge your feelings, and work with you to help find resolutions. You can read about our services here. 
Abortions for young people
Can I get an abortion if I'm under 16? Do I have to tell my parents/carer that I'm having an abortion?
Yes, you can. We will not tell you parents or guardian as you have a right to confidentiality, however we do advise that you tell an adult who can support you through this process. This could be a friend, family member, teacher, social worker or anyone else over 18 who you trust.
However, if you share information that makes us worry about yours or others safety, we may have to talk to professionals around you such as a school nurse, GP or social worker to make sure you are safe. We have a duty of care to do this if we feel there is any risk of harm- but we will tell you if we need to do this and why. 
Abortions for underrepresented communities
Is there support for trans people?
Nonbinary people and trans men need the same access to abortion care as women and MSI UK's centres are open to people of all gender identities and sexual orientations, to provide accurate information, compassionate support and expert healthcare. We are here to support you.
What if I don't speak English?
If English is not your first language, and you have a family member, friend or colleague who can speak English they can call us on your behalf.
At time of booking we can then arrange to have interpreters who can speak with you by phone, or help you during your consultation at the clinic.
If you are calling on behalf of someone else, we may ask you for:
Your name
Your relationship to the person that you're calling on behalf of
You can see the information provided on our website in other languages via the Google translate feature in the top left-hand corner of this website.
You can read more at this link "Abortion and your rights".
What if I'm not a UK citizen?
Deciding to have an abortion can be one of the most difficult decisions you can make, even more so if you travel to another country to receive your treatment. We are here to support you.
For clients traveling from overseas, we know you will have travelled some way to get to your appointment. You will want to return home as soon as you can, but we strongly advise you to stay overnight locally with friends or family if possible.
By contacting us ahead of travelling we can answer any questions you might have on treatment options, prices, travel, how long you should stay in England, and if you should be accompanied on your trip. We can also arrange for you to have counselling over the phone. Call us any time to speak to an advisor - lines are open 24-hours a day.
What support is available for people in religious communities where an abortion is heavily stigmatised?
The decision about whether to continue or end the pregnancy is yours to make. This might not be the same decision your partner, friends or family would make. We believe that no one should be judged for having an abortion, though we understand that there may still be some stigma attached to abortion within religious communities, or from peers or family who have religious views.

However, there are many religious pro-choice organisations who disagree with stigma and explain that shaming people for accessing treatment is not in line with their overarching religious values. These organisations believe that abortion can be a moral option.
The above are just some of the organisations who promote being part of a faith community and being pro-choice.

If you feel unable to talk to friends or family about your decision, you can speak to a MSI UK counsellor, to your GP, or to a contraception and sexual health clinic. Or if you don't want to talk to your GP, that's ok too. You can call our advice line 0345 300 8090 at any time to discuss your options and organise a counselling session to chat through your feelings.
By: Daisy Wakefield (in collaboration with MSI Reproductive choices)
Other articles you may be interested in