Silvercloud is a new online tool that uses CBT techniques to help you understand your thoughts, feelings and actions, providing the tools to manage anxiety, depression and stress.

Silvercloud offers of a range of "self-guided" modules that anyone experiencing "mild to moderate" symptoms over 13 can access.
The video below, from SilverCloud Wales, explains a bit more about "mild to moderate" can mean:
How does it work?
Work through the modules at your own pace, with one of our practitioners available on a regular basis to check in with and offer additional insights as you progress.
What can I get support with?
Modules available for everyone are:

anxiety, stress, depression, low mood, resilience and body image

You can work through modules at your own pace and at a time works for you, but it usually takes around12 weeks to complete all the elements and we'd encourage you to access the modules 3-4 times a week for around 15-20mins at a time.
Take a look at the video below to learn more about SilverCloud works: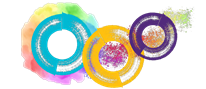 How will I know if it's working?
The modules involve reflecting on the impact they might be having on your thoughts, feelings and actions, so they'll be plenty of opportunity to explore this.
You can also chat with your 42nd Street supporter about how you're finding things and discuss any differences you might be noticing.
Everyone is different and might get different things out of the support. You'll have the opportunity to set goals for yourself and will be regularly asked about areas of your life where you may be noticing a difference.
---
What does it mean for my support at 42nd Street?
Accessing Silvercloud won't affect the wait time for direct one-to-one support with us if you decide you would still like to access that afterwards.
You'll also be able join groups and other projects with us whilst working through the modules and we're always around to talk to if you need.

What if I don't have data?
If you have concerns around data or access to the internet, we're able to provide a free SIM card to those experiencing difficulty accessing online services through our partnership with the National Data Bank scheme.
You'll be able to use the data for anything you need,  just let the worker you speak to that this is something you're interested in and they'll take care of the rest.
---
What if I change my mind or decide it's not for me?
That's absolutely fine!
Silvercloud can be brilliant for some young people, but some might find the style of working just isn't for them. If you give it a go and find it's not for you, just let your supporter know. It won't impact the rest of your support with us at all, and you'll still be able to access further support if you'd like to.
---
How do I get started?
To access the supported modules, you can complete our online registration form.
In the "reasons for registering" box, let us know that you're interested in Silvercloud. We'll message you back on our platform (you'll also get an e-mail to let you know we've been in touch, which sometimes ends up in junk mail)